Aromatherapy After Childbirth?
Can aromatherapy be effective for post-partum symptoms after a cesarean delivery?
Andrew Weil, M.D. | December 16, 2021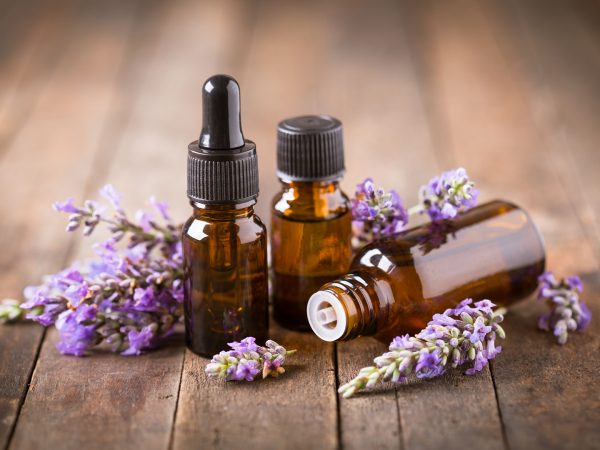 Childbirth can have a profound effect on a woman's body and emotions. Many new mothers experience post-partum pain, fatigue, depression, stress, loss of sleep, and anxiety, as well as a sense of being overwhelmed with their new role. Aromatherapy has been shown to help with many of these issues, and it may help with the additional anxiety that often accompanies a cesarean birth.
A 2019 review article looked at 17 different studies of aromatherapy treatments in 1,400 women experiencing common post-partum symptoms. These studies included aromatherapy massage, inhalation, beverages, and baths. The majority of studies found that aromatherapy had a positive effect on the most common postpartum symptoms of depression, fatigue, and stress.
Lavender, which is well known for its ability to promote sleep and reduce stress, was the essential oil used most frequently in these studies, so it's not surprising that the treatments helped relieve these symptoms after childbirth. (See my guide to lavender.) The review also included studies that used orange and rose oils, results that were less conclusive.
More recently, however, a study of 80 women who had undergone cesarean deliveries compared the use of foot massage with and without aromatherapy. Half of the women were given a foot massage with orange essential oil, the other half received a foot massage only, and their anxiety levels before and after the massage were recorded. Both groups showed a reduction in anxiety after the massage, but those whose massages had included orange oil experienced a greater benefit immediately after treatment. The effect was even more pronounced an hour later, when anxiety levels had continued to decline in the group treated with orange oil but had started to rise again in those who had not had the aromatherapy component of the massage.
Aromatherapy has not been well studied in breast-feeding women, and its effects on nursing newborns is not well known, so it should be used with some caution after delivery. Consult a qualified aromatherapist, and see my guide to aromatherapy before using any essential oils while breast-feeding.
Andrew Weil, M.D.
Sources:
Rezaie-Keikhaie K, Hastings-Tolsma M, Bouya S, Shad FS, Sari M, Shoorvazi M, Barani ZY, Balouchi A. "Effect of aromatherapy on post-partum complications: A systematic review." Complement Ther Clin Pract. 2019 May;35:290-295. doi: 10.1016/j.ctcp.2019.03.010. Epub 2019 Mar 15. PMID: 31003672. https://pubmed.ncbi.nlm.nih.gov/31003672/
Mirhosseini, Seyedmohammad, Abbasi, Ali, Norouzi, Nastaran, Mobaraki, Fatemeh, Basirinezhad, Mohammad Hasan and Mohammadpourhodki, Reza. "Effect of aromatherapy massage by orange essential oil on post-cesarean anxiety: a randomized clinical trial" Journal of Complementary and Integrative Medicine, vol. 18, no. 3, 2021, pp. 579-583. https://doi.org/10.1515/jcim-2020-0138
https://www.degruyter.com/document/doi/10.1515/jcim-2020-0138/html