Does Equine Therapy Work For PTSD?
Would someone suffering post-traumatic stress disorder benefit from spending time with horses?
Andrew Weil, M.D. | December 6, 2021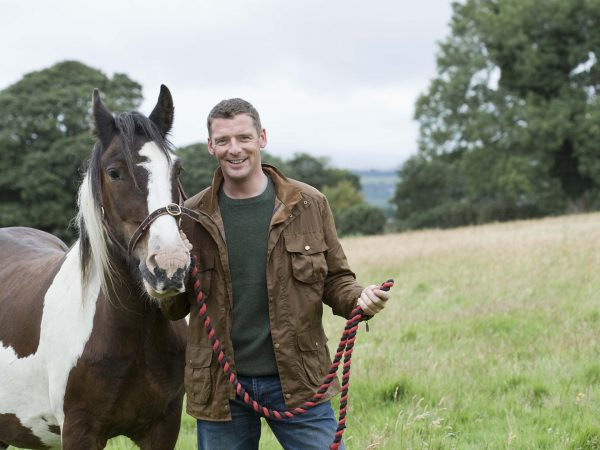 The umbrella term "equine therapy" refers to several different practices used to address a variety of physical and emotional conditions, including autism, anxiety, depression, behavioral issues, traumatic brain and spine injury, spasticity, and others. Many studies have reported benefits for equine therapies in different populations, and some research suggests that those with post-traumatic stress disorder (PTSD) may benefit from these approaches as well. That research is not definitive yet, and PTSD is a complex condition, but equine therapy appears to be a useful avenue to explore.
PTSD can affect anyone after a traumatic experience, and is of particular concern in military veterans. A 2019 study documented the effects of a well-defined regimen of equine therapy on those with PTSD following military combat, terrorist incidents, or other traumatic experiences within the Israel Defense Forces. The weekly routine consisted of grooming and saddling horses that had been specially selected for their calm temperaments, a session of therapeutic horseback riding, individual sessions with the horses, and group sessions with therapists. After six months of these weekly sessions, 46.2% reported at least some resolution of PTSD symptoms and 30.8% of the participants reported significant reductions. There was also improvement in participants' ability to work and perform daily tasks at home. This was a small study, and because there was no formal follow up, investigators could not say whether equine therapy has a lasting benefit for PTSD.
A similar study in the United States enrolled 29 military veterans with a diagnosis of PTSD or a traumatic brain injury in a six-week-long program of therapeutic horseback riding. Participants learned to groom and saddle their horses, then spent time riding them. Among the, 78% of participants showed a reduction in PTSD symptoms after the third session; 94.74% showed a reduction by the sixth. This was, again, a small sample size and a very short study period, which did not allow investigators to measure long-term effectiveness.
One concern about equine therapy is the variability in regimens. Depending on the treatment, individuals receiving a program referred to as "equine therapy" may interact with horses by grooming, riding, or feeding them, or simply touching them or talking to them. In a recent effort to standardize equine therapy for PTSD, a research team published a manual and a proposed protocol for treatment, then administered the protocol to two pilot groups to assess its effectiveness. The eight-session protocol included no riding at all, instead emphasizing interaction with the horse from the ground. The pilot groups showed short-term benefits, but the study authors concede that long-term investigations and follow-ups are needed to establish effectiveness.
This is an extremely interesting field, with much of the potential benefit still to be defined and validated by careful study. Encouragingly, there were no adverse effects noted in these studies, and there seems to be little to no risk in exploring equine therapy as a part of a larger effort to address PTSD symptoms.
Andrew Weil, M.D.
Sources:
Fisher PW, Lazarov A, Lowell A, Arnon S, Turner JB, Bergman M, Ryba M, Such S, Marohasy C, Zhu X, Suarez-Jimenez B, Markowitz JC, Neria Y. "Equine-Assisted Therapy for Posttraumatic Stress Disorder Among Military Veterans: An Open Trial." J Clin Psychiatry. 2021 Aug 31;82(5):21m14005. doi: 10.4088/JCP.21m14005. PMID: 34464523.  https://pubmed.ncbi.nlm.nih.gov/34464523/
Johnson RA, Albright DL, Marzolf JR, Bibbo JL, Yaglom HD, Crowder SM, Carlisle GK, Willard A, Russell CL, Grindler K, Osterlind S, Wassman M, Harms N. "Effects of therapeutic horseback riding on post-traumatic stress disorder in military veterans." Mil Med Res. 2018 Jan 19;5(1):3. doi: 10.1186/s40779-018-0149-6. PMID: 29502529; PMCID: PMC5774121. https://pubmed.ncbi.nlm.nih.gov/29502529/
Arnon S, Fisher PW, Pickover A, Lowell A, Turner JB, Hilburn A, Jacob-McVey J, Malajian BE, Farber DG, Hamilton JF, Hamilton A, Markowitz JC, Neria Y. "Equine-Assisted Therapy for Veterans with PTSD: Manual Development and Preliminary Findings." Mil Med. 2020 Jun 8;185(5-6):e557-e564. doi: 10.1093/milmed/usz444. PMID: 32034416; PMCID: PMC7282489. https://pubmed.ncbi.nlm.nih.gov/32034416/
https://pubmed.ncbi.nlm.nih.gov/30839068/