Should I Worry About 5G Towers In My Neighborhood?
I'm worried about the health risks of all these new 5G Wi-Fi towers going up everywhere. Won't they increase the risk of cancer in people living or working near them?
Andrew Weil, M.D. | January 25, 2022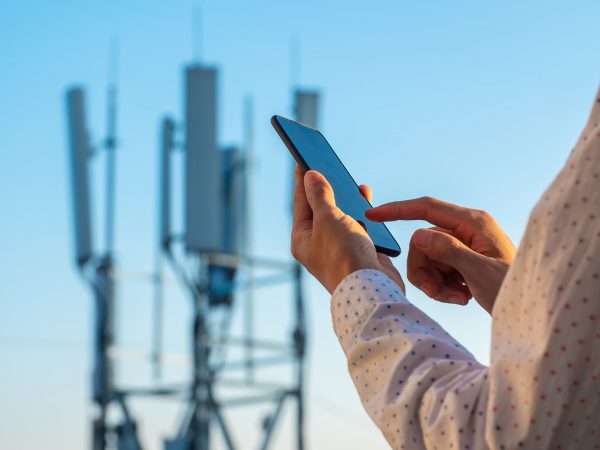 I have heard from many people worried about the proliferation of new cell phone masts and towers for fifth-generation (5G) wireless service. Since 5G uses higher-frequency radio waves than current 4G technology does, and these waves have shorter ranges, service providers are rushing to install the many new antennae needed to get 5G up and running. No sooner did the new equipment start appearing than the conspiracy theories sprang up – with rumors about health risks, a connection between Covid-19 and 5G, and international competition and misinformation everywhere.
The good news is that there have been some studies that conclude there are no serious health risks, and the World Health Organization says it anticipates no public health consequences from 5G networks.  I understand your concerns about a new technology and I hope to see ongoing long-term studies about this. But let's take a look at the science so far.
The International Commission on Non-Ionizing Radiation Protection (ICNIRP) is a global body charged with setting standards and evaluating health risks in this field. In its report on 5G, it notes that higher-frequency electromagnetic fields (EMFs) have less power to penetrate the body and expresses confidence that the 2020 standards it set for 5G will adequately limit exposure. The commission concludes that there are no public health risks from 5G technology.
In 2020, the Committee on Man and Radiation (COMAR), which is a technical committee of IEEE (the Institute of Electrical and Electronics Engineers), published a statement that summarized its evaluation of 5G technology and health concerns. It notes that there is greater bandwidth available at 5G's higher frequency and adds that 5G can also operate in the "millimeter wave" (MMW) band commonly used in airport scanners as well as in the collision avoidance systems in many new cars. The COMAR statement also looked at potential health implications of having so many more sources of MMW fields. The conclusion was the same as ICNIRP's: the higher frequency waves, including MMWs, do not penetrate as deeply into the body as lower frequency waves and pose no public health risks.
Complicating matters is what appears to be a deliberate campaign of fearmongering by international competitors seeking business advantage. The stakes are high, and we live in an age of mistrust; that combination makes it difficult to tease out the truth. Looking at reliable studies is the best way to evaluate the science.
There has also been controversy around how unsightly these new installations are, and it's true that nothing can spoil a beautiful landscape quite like a cell tower. I certainly hope that long-term studies bear out the official findings of the safety of 5G networks, and perhaps designers can even make them less unattractive for our neighborhoods and wild lands.
Andrew Weil, M.D.
Sources:
Bushberg JT, Chou CK, Foster KR, et al. IEEE Committee on Man and Radiation-COMAR Technical Information Statement: Health and Safety Issues Concerning Exposure of the General Public to Electromagnetic Energy from 5G Wireless Communications Networks. Health Phys. 2020;119(2):236-246. doi:10.1097/HP.0000000000001301 https://www.ncbi.nlm.nih.gov/pmc/articles/PMC7337122/
https://www.washingtonpost.com/local/5g-towers-dewey-beach/2021/07/11/455e3866-e0f4-11eb-9f54-7eee10b5fcd2_story.html
https://www.who.int/news-room/questions-and-answers/item/radiation-5g-mobile-networks-and-health
https://www.icnirp.org/en/applications/5g/5g.html
https://www.icnirp.org/en/about-icnirp/aim-status-history/index.html
https://www.cnet.com/tech/mobile/5g-has-no-link-to-covid-19-as-false-conspiracy-theories-persist/