Digital Detox While Traveling?
My husband and I are at odds over whether to take cell phones or tablets during an upcoming tour abroad. He doesn't want to be completely disconnected while I favor getting away from it all and focusing on the here and now. Your thoughts?
Andrew Weil, M.D. | September 20, 2019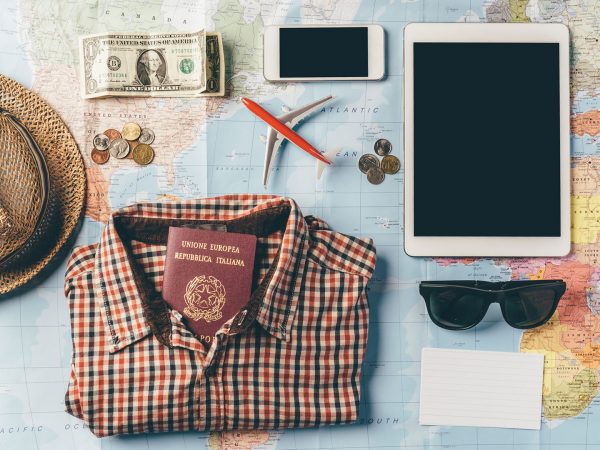 Interestingly, a study from researchers in the United Kingdom and New Zealand published in August (2019) delved into what happens as a result of a "digital detox" while on vacation. The 24 participants in the study were asked to do without phones, tablets and other digital technology for more than one day during their travels to 17 countries and regions. The study, published in the Journal of Travel Research, reported that participants initially experienced anxiety and frustration, especially when they were in urban areas and needed information on how to get around, as well as when they needed access to instant information.
Those who stopped using their devices while in rural and natural destinations reported that their digital withdrawal symptoms were related to fears about inability to call for help in case of emergencies or inability to kill time. These problems were less likely to occur among those traveling as couples or in groups. The study also found that withdrawal symptoms were more pronounced for travelers with many social and professional commitments.
The researchers said they undertook the study because of a growing demand for digital detox holidays. Lead author Wenjie Cai, a lecturer on tourism and hospitality at London's University of Greenwich, said many people "are increasingly getting tired of constant connections through technologies, and there is a growing trend for digital-free tourism, so it is helpful to see the emotional journey that these travelers are experiencing."
The researchers collected 15 diaries and 18 interviews from the study participants to determine their experiences when they disconnected from their digital devices. On the upside, participants reported that after disconnecting they not only engaged more with other travelers and locals but also spent more time with their traveling companions. Study co-author Brad McKenna, a lecturer at the University of East Anglia's Norwich Business School, noted that many of the participants reported being much more attentive and focused on their surroundings after disconnecting rather than being distracted by incoming messages, notifications or alerts on their mobile apps. The downside was that many were later overwhelmed by all the waiting incoming messages and information received while they were disconnected.
My view is that for mental health and balance, nothing is more essential than placing firm limits on the amount of information you let into your life. I have recommended taking extended "data vacations" during which you have no interaction with digital devices, choosing instead to converse with friends, work in the garden, or otherwise engage in some activity that's long been a nourishing part of human experience. A trip abroad is an ideal time for a "data vacation." Why go all that way and not be fully attuned to the sights and sounds around you? Keep in mind that long before digital devices travelers managed to get from place to place in foreign countries, pick up enough of local languages to ask questions, and keep abreast of news and important information from home.
Andrew Weil, M.D. 
Source:
Wenjie Cai et al, "Turning it Off: Emotions in Digital-Free Travel," Journal of Travel Research, August 13, 2019, doi.org/10.1177/0047287519868314