Are Mushrooms Safe For Dogs?
Could mushrooms benefit my dog's health?
Andrew Weil, M.D. | December 21, 2021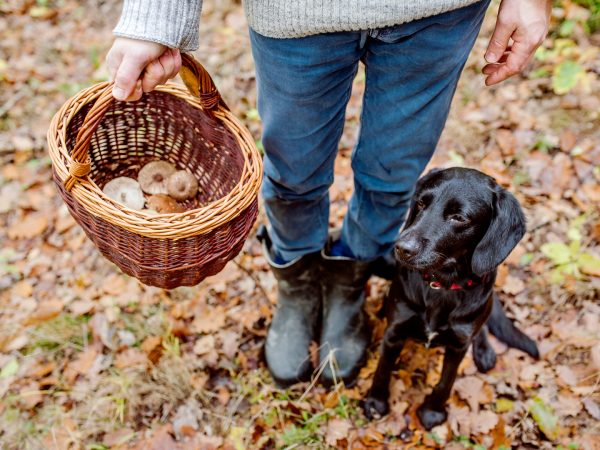 Although it depends on the species, most edible and medicinal mushrooms are considered safe for dogs. Some medicinal mushrooms may even help benefit your canine's health — but you'll need to know what to look for.
According to the American Kennel Club, wild mushrooms can pose risk to dogs. Just as some wild mushrooms can poison people, so too can some be toxic when consumed by dogs. Among the most problematic is the Amanita, or "deathcap," family. These mushrooms can cause tremors, seizures, severe gastrointestinal symptoms, liver failure, acute kidney problems, and death. It's a myth that dogs can identify — and avoid — toxins by their scent. If you walk your companion animals in wooded areas or other locations where wild mushrooms grow, keep them on leash or watch them closely. If you think your dog has consumed a wild mushroom, take it to the veterinarian immediately and bring a sample of the mushroom with you if possible.
Commercially available mushrooms found in supermarkets (such as portobello and shiitake) are generally considered safe for dogs. However, I wouldn't feed whole, store-bought mushrooms to my dogs: They aren't necessary for canine nutrition, and the ingredients you might prepare them with, including certain oils, butter, and seasonings, may be harmful to dogs.
That said, I do give my Rhodesian ridgebacks, Juno and Kengo, medicinal mushroom products that include extracts of cordyceps (Cordyceps ophioglossoides), maitake (Grifola frondosa), reishi (Ganoderma lucidum), shiitake (Lentinus edodes), and turkey tail (Trametes versicolor). Studies in humans and in the laboratory suggest that certain medicinal mushrooms may help enhance immune function, lower cholesterol and blood pressure, decrease fatigue, and protect against cancer and some neurological conditions. Although evidence in dogs is mostly anecdotal, I believe that medicinal mushrooms can be beneficial in helping them stay healthy.
You can find medicinal mushrooms online or at some pet stores; forms include chewable tablets, powders, and liquid extracts. Look for products (such as Canine Matrix Healthy Pet Certified 100% Organic Mushroom Supplements) that contain a variety of medicinal mushrooms, and follow package directions. I would avoid medicinal mushrooms or use them cautiously in dogs who are pregnant or nursing or who have been diagnosed with a bleeding disorder, low blood pressure, or liver or kidney disease. Discuss these products with your dog's vet before using them.
Andrew Weil, M.D.
Source:
Burke, Anna. "Can Dogs Eat Mushrooms?" American Kennel Club, May 25, 2017. https://www.akc.org/expert-advice/nutrition/can-dogs-eat-mushroom/