Dogs Can Help You Sleep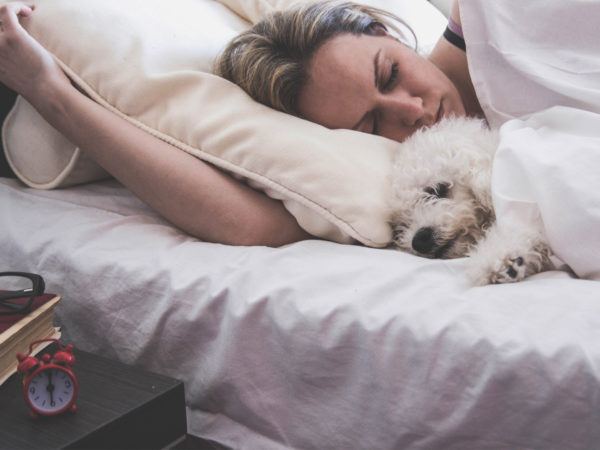 Have trouble sleeping? That could change for the better if you let your dog share your sleeping space. A new study from the Mayo Clinic looked at how the presence of a dog in the bedroom can affect sleep. Researchers recruited 40 healthy adults – 88 percent of them women – none of whom had a sleep disorder, to test how their sleep quality would be affected if their dogs slept nearby. The participants and their companion animals wore activity trackers to monitor their sleeping habits for 7 nights when they slept in the same bedroom. Results showed that sleeping with a dog in the room did help some people sleep better. However, the researchers reported that letting the dog sleep in the same bed resulted in poorer sleep quality. "Most people assume having pets in the bedroom is a disruption. We found that many people actually find comfort and a sense of security from sleeping with their pets," commented the study's author Lois Krahn, M.D. The dogs slept pretty well, too.
My take? This finding doesn't surprise me, but if you're not used to having your dog sleep in your bedroom – or on your bed with you – I can see that you might find it unfamiliar at first. For the record, there's no health reason to keep your dog out of your bed. The only concern of note are findings reported in 2011 that in rare instances pets can pass on serious infections to their owners via licking, kissing or sleeping in the same bed. However, I don't expect that to change the fact that between 21 and 33 percent of the estimated 60 million canine companion animals in the United States (including mine) sleep on or in their owners' beds. Of the 75 million cats, 60 percent sleep with their owners.
Source:
Lois E. Krahn et al, "The Effect of Dogs on Human Sleep in the Home Sleep Environment." Mayo Clinic Proceedings, September 2017, DOI: dx.doi.org/10.1016/j.mayocp.2017.06.014
Also in this week's bulletin: