No More Antibacterial Soaps?
Can you tell me why the FDA took antibacterial soaps off the market? What do you recommend we use instead?
Andrew Weil, M.D. | November 2, 2018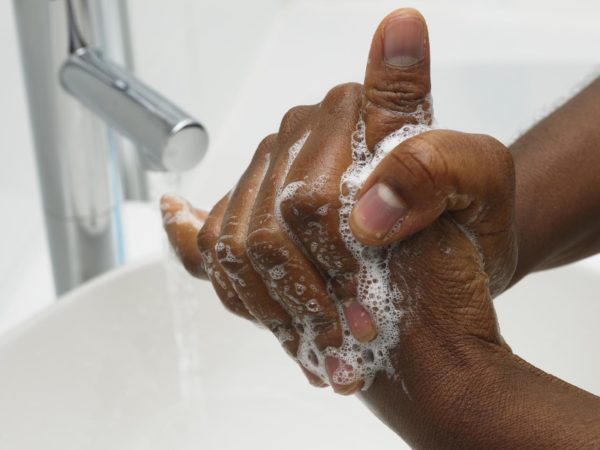 In 2016, the U.S. Food and Drug Administration (FDA) banned the use of 19 chemicals used in antiseptic products. These include triclosan used in antibacterial liquid soaps (as well as toothpastes, body washes and some cosmetics) and triclocarban used in hand soaps. Some evidence suggests that these two chemicals can disrupt hormone cycles and cause muscle weakness.
Before taking this action, the FDA asked antibacterial soap manufacturers to provide data from clinical studies demonstrating that their products were better than non-antibacterial washes in preventing human illness or reducing infection. The FDA reported that either no additional data were submitted or the data and information provided were not sufficient for the agency to find that the ingredients at issue were generally recognized as safe and effective.
The FDA maintains that washing with plain soap and running water "is one of the most important steps" consumers can take to avoid getting sick and to prevent spreading germs to others. I agree. If soap and water aren't available, your best bet is an alcohol-based sanitizer containing at least 60 percent alcohol.
I never thought antibacterial soaps were necessary for home use and never used them myself. Obviously, they're needed in nursing homes, hospitals and other healthcare centers where there is a high risk of spreading infection from person to person. But there never was any proof that the antibacterial soaps and washes marketed for home use served any useful purpose.
Beyond that, some doctors had voiced concern that antibacterial products may weaken resistance to disease in children. This idea follows from the hygiene hypothesis, which holds that children who grow up in crowded and dirtier environments are less likely to develop asthma, allergies and other ailments than youngsters raised in cleaner, more protected environments. The idea is that the developing immune systems of less privileged kids are exposed to lots of germs from an early age and so become stronger and more protective of health. The hygiene hypothesis is an intriguing theory that remains to be proved, but it makes sense to me.
I recommend taking the following measures to clean your kitchen, where most bacteria in the home are found (even more so than the bathroom). The bugs lurk in sponges, dishrags, cutting boards and counters:
To clean sponges and dishrags, run them through the dishwasher or microwave them regularly. Sterilize dry cellulose sponges and dry cotton dishrags for 30 seconds in the microwave and zap wet sponges for one minute and wet dishrags for three minutes.
Replace sponges every few weeks.
Wash plastic cutting boards with a diluted solution of chlorine bleach (one tablespoon in a cup of water).
Clean wooden cutting boards with soap, water and vigorous scrubbing. Better still, avoid wooden cutting boards.
To keep kitchen counters germ-free, scrub off any caked grime and then disinfect with the diluted bleach
Andrew Weil, M.D.
Source:
"FDA issues final rule on safety and effectiveness of antibacterial soaps" September 2, 2016, fda.gov/NewsEvents/Newsroom/PressAnnouncements/ucm517478.htm