Is Cycling Bad For Bones?
I ride a bike for exercise and have for years. Now I understand it isn't good for bones. If true, I would like to know what I can do to improve my bone strength.
Andrew Weil, M.D. | March 22, 2019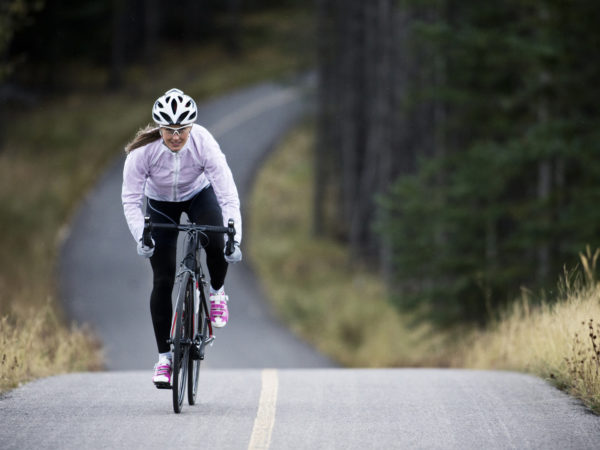 A recent Norwegian study compared the bone density of male and female competitive cyclists and runners – all of whom were young and fit – and found that the cyclists' bone density was strikingly lower than that of the runners. More than half the cyclists had low bone mineral density and one man had osteoporosis in his spine.  This wasn't the first study to show that non-weight-bearing activities – cycling and swimming, in particular – aren't ideal for bones.
For the study, the researchers evaluated the bone density of the runners and cyclists and determined whether or not they did any additional weight training. They reported that the cyclists, on average, did more weight training than the runners and also spent much more time training – about 900 hours per year compared to the runners' 500 hours. All the participants were getting adequate calcium for their daily needs.
Study leader Oddbjørn Klomsten Andersen, a former competitive cyclist, said that the study didn't reveal why the cyclists' bones were so thin. He suggested that they might have been eating too little or sweating too much and noted that other studies have shown that high rates of calcium loss through sweating have been related to bone loss.
Maximum bone mass is genetically determined and also influenced by lifestyle factors. The idea that exercise is key to bone strength comes from studies showing that lack of exercise – among people who are bedridden, for example – leads to bone loss. However, there isn't much evidence showing that common forms of exercise actually build bone.
We know that bone is constantly being remodeled by the action of opposing forces – some destructive, some constructive – in response to the stresses and demands placed on it. These changes are under precise cellular and hormonal control. Strength training causes the constructive influences to dominate. For that reason, I have long recommended strength training with weights to help maintain bone integrity once you reach midlife, and I generally advise learning proper form from a personal trainer, as well as how and when to increase the amount of weight you're working with.
Also, bear in mind that biking for exercise may not have the same effects on bone as competitive cycling, which places higher demands on the body – including calcium loss due to excessive sweating. I've also read that competitive cyclists tend to spend several hours resting each day after training time and that this sedentary time may be associated with low bone mass.
On the upside, cycling is great aerobic exercise, good for your heart, brain and blood vessels, as well as balance. It also builds muscles in the buttocks, thighs and calves. Even so, the bottom line is that weight-bearing exercise is much more likely to benefit your bones than biking.
Andrew Weil, M.D.
Source:
Oddbjørn Klomsten Andersen et al, "Bone health in elite Norwegian endurance cyclists and runners: a cross-sectional study," BMJ Open Sport & Exercise Medicine, December 27, 2018, doi:10.1136/bmjsem-2018-000449