Exercise To Prevent Cancer?
Is it really true that exercise can help prevent cancer? What's the connection?
Andrew Weil, M.D. | February 28, 2020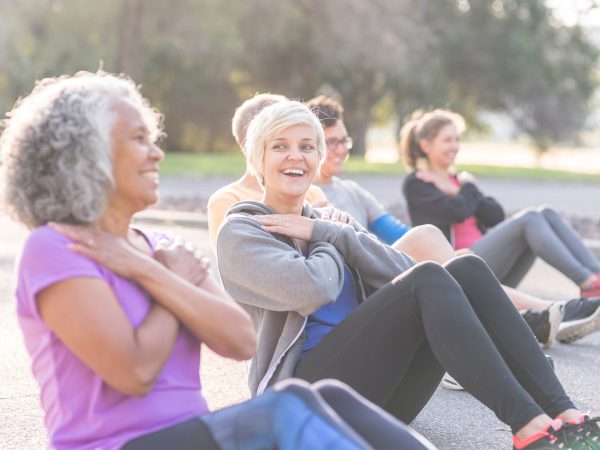 Performing daily exercise does appear to help reduce the risk of certain types of cancer, including breast, colon, kidney, endometrial, liver, myeloma, and non-Hodgkin lymphoma. The latest on this comes from a study published in December 2019 showing lower risks of developing these seven among the 15 different types of cancer that were investigated in people who reported getting recommended amounts of physical activity. Researchers analyzed information from 755,459 adults in the U.S., Europe and Australia. They noted that a significant association between physical activity and reduced risk of non-Hodgkin lymphoma was seen only in women, while an association between physical activity and a lower risk of colon cancer was seen only in men.
The most physically active women in the study had a six to 10 percent lower risk of breast cancer than the least active women, and the most physically active men and women had an 18 to 27 percent lower risk of liver cancer than individuals who were least active.
As for breast cancer, research has shown that physical activity after diagnosis is linked with better outcomes. One large study found that women who exercised moderately (walking three to five hours per week at an average pace) had a 40 to 50 percent lower risk of breast cancer recurrence, death from the disease or from any other cause compared with more sedentary women.
For the record, it is recommended that adults get three to five hours a week of moderate activity or one to three hours a week of vigorous activity. Almost all the evidence linking physical activity to reduced risk of cancer comes from studies in which individuals report on how much exercise they perform. Then, they are followed for years to determine whether or not they have been diagnosed with cancer.
The researchers cautioned that the new findings don't prove that exercise directly causes the risk of cancer to drop. However, according to the National Cancer Institute, "There is substantial evidence that higher levels of physical activity are linked to lower risks of several cancers."
According to the NCI, physical activity may affect the risk of cancer in the following ways:
Lowering levels of hormones such as insulin and estrogen and of certain growth factors associated with cancer development.
Helping prevent obesity and the development of insulin resistance.
Reducing inflammation.
Improving immune system function.
Altering the metabolism of bile acids, resulting in decreased exposure of the gastrointestinal tract to these
Reducing the time it takes for food to travel through the digestive system, which decreases gastrointestinal tract exposure to possible carcinogens.
Andrew Weil, M.D.
Source:Charles E. Matthews et al, "Amount and Intensity of Leisure-Time Physical Activity and Lower Cancer Risk," Journal of Clinical Oncology, December 26, 2019, DOI: 10.1200/JCO.19.