Diet To Lower Lung Cancer Risk?
I've been told that eating yogurt and fiber lowers the risk for lung cancer. If true, I'm wondering how much of these foods I should eat daily.
Andrew Weil, M.D. | December 20, 2019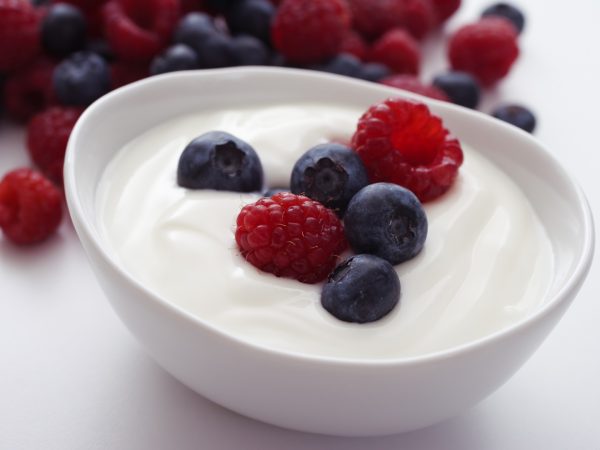 Results of an investigation published in October 2019 suggested that the risk of lung cancer was lower for people who consumed a high fiber diet that included three to four ounces of yogurt daily. (A cup of yogurt contains about 8.64 ounces.) The researchers, from Vanderbilt University, combined data from 10 studies that looked at diet and the incidence of lung cancer and included information on more than 1.4 million adults in the U.S., Europe, and Asia. After an eight-year follow up, 18,882 cases of lung cancer developed.
When they looked at the participants' diets, the researchers found that the risk of lung cancer among those whose consumed the most fiber and yogurt was 33 percent lower than that of those who ate the least of these foods. The lower risk held true even for smokers in the study. Eating a daily serving of yogurt reduced the risk of lung cancer by 19 percent. The analysis also showed that eating a high-fiber diet that included fruits, vegetables and whole grains lowered the risk of lung cancer by 15 percent even among those who didn't consume yogurt.
The report's senior author, Xiao-Ou Shu, M.D., Ph.D., said that while the reason for the link between fiber, yogurt and a reduced risk of lung cancer is unclear, "Inflammation plays a major role in lung cancer, and we know that the gut microbiome plays a major role in reducing inflammation. People who eat a lot of fiber and yogurt have a healthier microbiome."
While these findings are welcome news, if you smoke, the best thing you can do to reduce your risk of lung cancer is stop. Smokers have 10 to 15 times the risk of developing the disease as people who never smoked. While risks decline if you stop smoking, no one can reliably predict an individual's risk on the basis of how long it has been since quitting or how much you smoked over time. Environmental and genetic factors also come into play.
Andrew Weil, M.D.
Source:
Xiao-Ou Shu et al, "Association of Dietary Fiber and Yogurt Consumption with Lung Cancer Risk: A Pooled Analysis," JAMA Oncology, October 24, 2019, doi: 10.1001/jamaoncol.2019.4107