Garlic Broth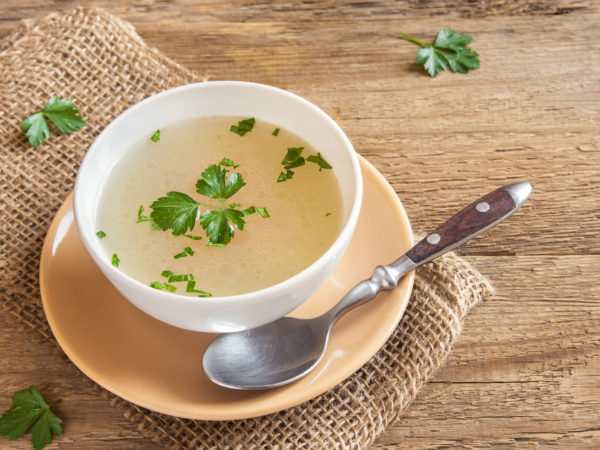 Nutrition
Serves 4
Nutrients Per Serving
Calories: 110.0
Protein: 5.5 grams
Fat: 5.2 grams
Saturated Fat: 0.7 grams
Monounsat Fat: 3.7 grams
Polyunsat Fat: 0.5 grams
Carbohydrate: 11.0 grams
Fiber: 0.4 grams
Cholesterol: 0.0 mg
Vitamin A: 14.4 IU
Vitamin E: 0.6 mg/IU
Vitamin C: 6.6 mg
Calcium: 52.9 mg
Magnesium: 19.7 mg
Enjoy the healthful effects of the whole, fresh herb! Perfect alone or as the base for other soups!
Garlic is an herb with remarkable medicinal properties – and it tastes great, too. It acts as a cardiovascular tonic, lowering blood pressure and cholesterol levels and inhibiting blood clotting. It's also a powerful germicide and may even protect against some carcinogens. The smell of garlic cooking has extremely positive associations – it's comforting and homey. If you eat garlic regularly (and with a good attitude), you won't smell of it. It's better for you in its natural state – raw or lightly cooked – rather than dried as powder or in capsules. Enjoy the smell, taste and healthful effects of the whole, fresh herb. Sip a warm mug of this flavorful broth as is or use it as a base for other soups.
Food as Medicine
Garlic can reduce the risk of stroke and heart attack by modulating cholesterol metabolism, lowering blood pressure and decreasing clot formation. It also has antiviral, antibacterial, and antifungal properties, making it especially helpful in combating respiratory infections, common colds, sore throats and fungal or yeast infections. In order to maximize garlic's health-promoting properties, allow it to sit for at least five minutes after chopping or crushing.
Ingredients
8 cups vegetable stock
1 1/2 tablespoons extra-virgin olive oil
1 whole head garlic, cloves peeled and coarsely chopped
1 bay leaf
1/4 teaspoon dried thyme
Pinch dried sage
Salt to taste
Instructions
To the vegetable stock, add the olive oil, bay leaf, garlic, thyme and sage.
Bring to a boil, reduce heat, cover and simmer for 30 minutes. Add salt to taste.
Strain and serve.