How Much Fish Is Healthy?
What's the latest on whether or not eating fish twice a week is enough to lower the risk of heart disease among people at high risk?
Andrew Weil, M.D. | May 11, 2021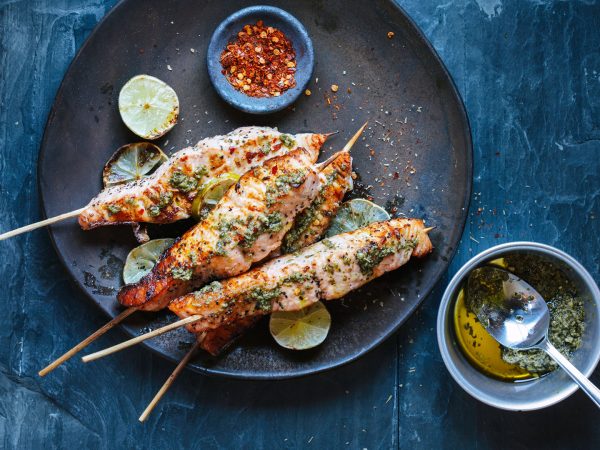 I've long recommended eating fish regularly, and now research has shown that consuming two six-ounce servings per week of oily fish (such as salmon or sardines) appears to help prevent cardiovascular disease in people at risk. The new findings come from an investigation at Canada's McMaster University. Researchers there analyzed results from four earlier studies that included data on more than 191,000 people from 58 countries who replied to a survey about their diets. A little more than a quarter of these individuals had a history of heart disease or were at high risk of it. Those who reported consuming, on average, at least two servings of fish per week had a 16 percent lower rate of major cardiovascular events – heart attack, stroke, congestive heart failure. and cardiac-related sudden death – over a median follow-up of about 7.5 years compared to others in the study.
Findings also showed that the risk of death from any cause was 18 percent lower among people with heart disease who ate two or more portions of fish per week than among those who didn't.
The researchers noted that the highest levels of heart-beneficial long-chain omega 3 fatty acids are found in salmon, mackerel, herring, and sardines. They reported finding no additional health benefits when study participants regularly ate more fish than the servings recommended. And they found no health benefits from eating fish in individuals who did not have heart disease.
Populations that eat fish regularly live longer and have less chronic disease than populations that do not. Whether this is because fish displaces meat or because it has positive attributes of its own is not entirely clear. Certainly, fish provides high-quality protein without the saturated fat present in meat and poultry.
Andrew Weil, M.D.
Source:
Deepa Mohan, PhD et al, "Associations of Fish Consumption with Risk of Cardiovascular Disease and Mortality Among Individuals With or Without Vascular Disease From 58 Countries," JAMA Internal Medicine, March 8, 2021. doi:10.1001/jamainternmed.20