Liven Up Your Summer Meals With These 3 Herbs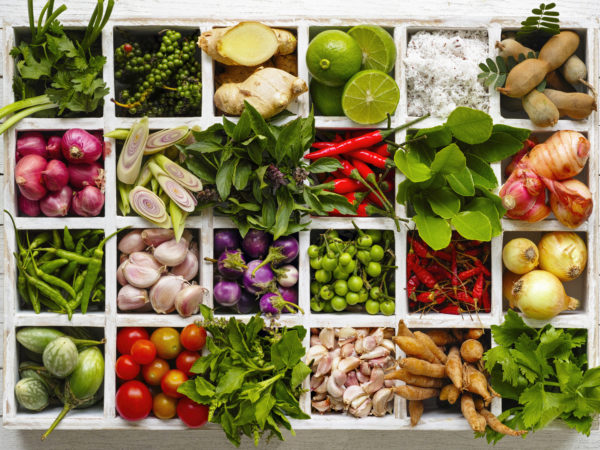 Summer is an ideal time to try fresh, seasonal herbs in your meals. Take advantage of these three classics and their unique flavors to liven up any dish!
Basil: A culinary staple that imparts a fresh flavor to cooked and uncooked meals alike, basil also has healthful properties: In India, basil is used to fight colds and other infections and is applied topically for minor cuts and scrapes. Experiment with adding fresh basil leaves to sandwiches and salads-or even ice water- for a unique and refreshing flavor. It is also a key ingredient along with olive oil in making a pesto.
Cilantro: A good source of fiber, cilantro (the fresh leaves of the coriander plant) is considered a healing spice. Traditionally used in India as an anti-inflammatory agent and studied in the U.S. for cholesterol-lowering properties, its pungent flavor lends itself perfectly to Mexican and Vietnamese dishes. For the best flavor, add chopped fresh cilantro right before serving.
Peppermint: Also known as mint or garden mint, peppermint is easy to grow and does more than lend a bright, spicy flavor to foods and beverages – it can help soothe an upset stomach and open nasal passages blocked due to cold or allergies. It makes a wonderful addition to fruit salads, hot or iced teas and plain water. For a cooler, subtler flavor, try spearmint. There is many a gardener who has regretted planting mint in the garden, it can grow and spread quite aggressively. Consider planting in isolated planters to contain.
Look for organic varieties in your grocery or local farmer's market. Better yet, fresh herbs are easy to grow yourself and there is no substitute for their fresh flavor. Grow them in pots in a windowsill or in your garden.
Today's Health Topics
Editor's Pick
Health Focus
Ask Dr. Weil's Q&A
Weekly Wellness Bulletin
Sign up for our once a week, in-depth health bulletin - sent out on Thursdays. Dr. Weil shares the very latest from the ever-changing world of health and nutrition. Stay on top of the latest news in this doctor-reviewed weekly compilation.