Stair Climbing For Fitness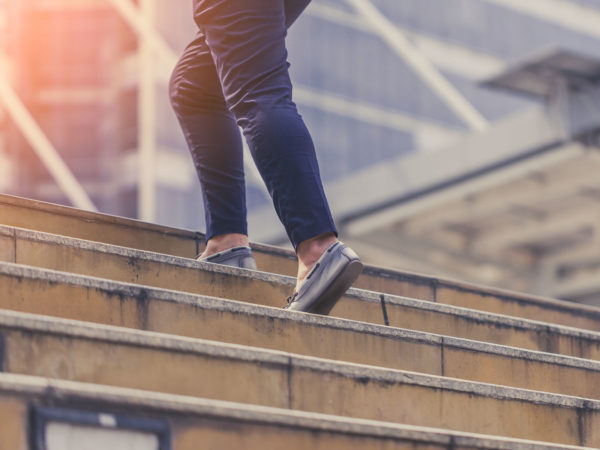 The Canadian researchers call their workout plan "exercise snacks". They note that earlier studies have shown that short bouts of vigorous exercise known as "sprint interval training" effectively improve fitness. For this study, the investigators from McMaster University and the University of British Columbia, Okanagan, recruited a group of sedentary young adults. Some of the participants climbed 3 flights of stairs three times a day, with a one to four hour break between each climb. They repeated this program 3 days a week for 6 weeks. When their fitness was compared to those in the study who didn't exercise, their cardiovascular health showed improvement, they were stronger and generated more power during a cycling test. The upshot? "Those who work in office towers or live in apartment buildings can vigorously climb a few flights of stairs in the morning, at lunch and in the evening and know they are getting an effective workout," reported study leader Martin Gibala, a professor of kinesiology at McMaster.
My take? If you're looking for a convenient way to exercise, stair climbing can provide an effective workout. It's been reported to burn twice the calories of any traditional sport and that 15 minutes of stair climbing can give you a workout equivalent to 30 minutes of running. You can burn more calories stair climbing than you would jogging or cycling at a moderate pace for the same amount of time. If you're not already fit, check with your physician before you start climbing stairs. And if you're going to be climbing in a high-rise building, I suggest doing it with a workout partner, or at least making sure that someone knows what you're doing and where you are in case of an accident, as most modern high-rise stairs don't get much traffic.
Source:
Martin J. Gibala et al, "Do Stair Climbing Exercise "Snacks" Improve Cardiorespiratory Fitness?" Applied Physiology, Nutrition, and Metabolism January 16, 2019; DOI: 10.1139/apnm-2018-0675
Also in this week's bulletin: