A Little Exercise & Your Brain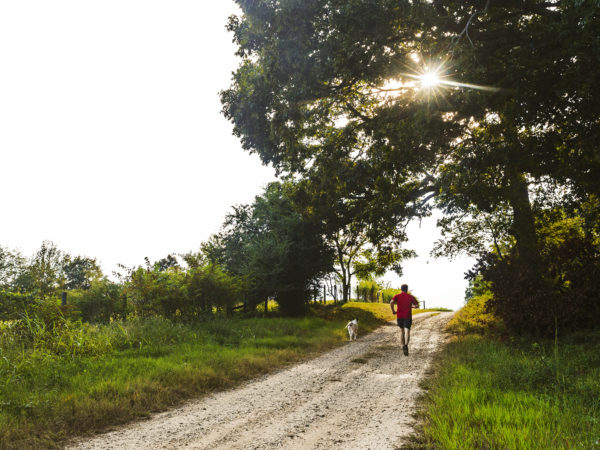 A study of adults whose mean age was 53 concluded that each additional hour of light physical activity performed daily can slow brain aging by about 1.1 years. Researchers at Boston University School of Medicine determined the number of steps walked per day by 2,354 participants in the long-running Framingham Heart Study and compared the result with their brain volume. Almost half of the participants met physical activity guidelines, averaging about 21 minutes of moderate to vigorous physical activity per day.
The researchers reported that among those who didn't achieve physical activity guidelines, taking 7,500 steps or more daily was linked to a higher total brain volume, equal to about 1.4 to 2.2 years of less brain aging. Brain volume was even higher among those who walked 10,000 or more steps daily. The results suggest that we can slow brain aging with less intense exercise than previously thought. "We have really only just begun to uncover the relationship between physical activity and brain health," said study leader Nicole L. Spartano Ph.D. who emphasized the need to investigate the impact of physical activity on brain aging in different race, ethnic, and socio-economic groups.
My take? This is very encouraging news. A considerable amount of research has found that physical (as well as mental) exercise can benefit the brain as we age. Studies have shown that yoga, weight lifting and aerobic exercise all can help. An investigation from the University of Canberra in Australia published in 2017 suggested that a combination of aerobic exercise and strength training (resistance exercise) can have significant positive effects, even if you're over 50. That research identified measurable improvements regardless of the state of an individual's brain at the outset. All told, the more daily exercise you can perform, the more your brain will benefit regardless of your age.
More from this week's bulletin:
Source:
Nicole L. Spartano et al, "Association of Accelerometer-Measured Light-Intensity Physical Activity with Brain Volume The Framingham Heart Study," JAMA Network Open, April 19, 2019 doi: 10.1001/jamanetworkopen.2019.2745