Want to Address Sinus Issues Without Using Meds?
Published: 05/22/2013
Learn More:
Chiropractic Therapy
Related:
Wellness Therapies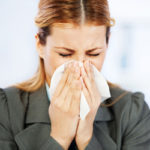 If you suffer from chronic sinus problems, nasal congestion or postnasal drip, you may want to consider using a Neti pot. Originally from the Ayurvedic tradition, a Neti pot resembles a genie's lamp and uses a gentle saltwater solution to irrigate nasal passages and sinuses, making nasal mucus thinner and flushing out irritants. It's fairly easy to use, but may take practice before it feels comfortable and is done correctly:
Dissolve one-quarter teaspoon of salt in one cup of distilled, sterile, or previously boiled warm water, and pour the solution into the pot.
Over a sink, tilt your head about 45 degrees to the side, and place the spout into your higher nostril.
Gently pour the saltwater solution into that nostril, letting the solution flow through to the lower nasal cavity. (If the solution runs into your throat, just spit it out.)
Once the solution is gone, blow your nose to get rid of any remaining solution, and then repeat the process with the other nostril.
Be sure to clean and dry the Neti pot between uses.
Find out which vitamins are right for you.
Everyone's dietary needs are different based on a number of factors including lifestyle, diet, medications and more. To find out
what vitamins you need
, take the
Weil Vitamin Advisor
. This 3-step questionnaire requires just minutes to complete, and generates a free, no-obligation vitamin and nutritional supplement recommendation that is personalized to meet your unique nutritional needs.
It's the Journey Not the Destination
Make each day count, with an outlook that both serene and inspired. Dr. Weil's website, SpontaneousHappiness.com, has everything you need to get on the path to emotional well-being. From articles and checklists to exclusive videos featuring Dr. Weil, we can help you make each day a little brighter. Learn more – start your 10-day free trial now.