Salmon, Watercress & Sencha Soup
Published: 02/28/2014
Learn More:
Crack Down on Weight Loss Scams?
Related:
Diets & Weight Loss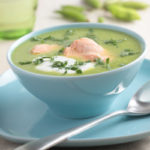 This recipe calls for nori seaweed and wasabi – a strong, pungent Japanese green horseradish made by mixing water (or in this case, green tea) with a powdered base. Both are available in the Japanese food section of most major supermarkets or Asian markets.
Food as Medicine
Eating just two servings of omega-3 rich fatty fish such as salmon weekly was shown in one six-month study to lower triglycerides (a form of fat in the bloodstream) better than an equivalent quantity of fat in vegetable oil.
Try Salmon Watercress Sencha Soup.
Find out which vitamins are right for you.
Everyone's dietary needs are different based on a number of factors including lifestyle, diet, medications and more. To find out
what vitamins you need
, take the
Weil Vitamin Advisor
. This 3-step questionnaire requires just minutes to complete, and generates a free, no-obligation vitamin and nutritional supplement recommendation that is personalized to meet your unique nutritional needs.
Vital Choice Wild Seafood & Organics
Vital Choice's wild Alaskan salmon is recommended by Dr. Weil because of its rich nutritional content and exceptional taste. As the leading source for fast home delivery of the world's finest wild seafood, whole-food supplements, and fine organic fare, Vital Choice is committed to serving the best. Quality foods that are the purest available and always sustainably harvested. Shop Vital Choice now – and sign up for Vital Choices, our free e-newsletter with up-to-the-minute health news, recipes, and exclusive special offers.