In a Fitness Rut?
Published: 10/30/2013
Learn More:
Fluoride
Related:
Vitamin Library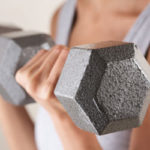 A healthful diet is not the only factor when it comes to achieving a healthy weight – physical activity plays an important role as well. While it may seem challenging to find time to work out, the long- and short-term health benefits make it a necessary aspect of achieving optimum health and a healthy weight. These seven simple tips can help get you moving and your calories burning!
Join a gym. Make an appointment with a trainer on staff – she or he can help design a plan for your level of fitness, health concerns or time constraints. Then go! (If you think a gym membership is beyond your budget, many health-care plans now offer reimbursements if you visit the gym a certain number of times per month. Contact your provider for more information.)
Get prepared. Wear the proper footwear, removable layers or light clothing; start slow and work your way up; and avoid dehydration by drinking more water than you think you need.
Try a new workout. The number of fitness classes is practically limitless these days. From indoor cycling to outdoor boot camps, yoga in the park or barre classes that emphasize classic ballet moves, the options abound. An added bonus: new classes can keep your mind and body equally challenged. Consider joining a class or renting exercise DVDs or watching videos online.
Partner up. It's more fun if you don't go it alone when it comes to exercise, and the right partner can keep you inspired. Start by enlisting a friend for a weekly walk, and build from there.
Try yoga. It is an effective and enjoyable way to burn calories, increase muscle mass (which in turn burns more calories) and enhance stretching, which is important for keeping joints limber and preventing injury.
Start dancing! Fast-tempo dancing is not only fun (especially when you get some friends to join you) but can burn 400 to 500 calories per hour.
Mix it up. Varying your exercise routine will work different sets of muscles and keep boredom at bay, so experiment with various cardio, strength training and stretching exercises.
Find out which vitamins are right for you.
Everyone's dietary needs are different based on a number of factors including lifestyle, diet, medications and more. To find out
what vitamins you need
, take the
Weil Vitamin Advisor
. This 3-step questionnaire requires just minutes to complete, and generates a free, no-obligation vitamin and nutritional supplement recommendation that is personalized to meet your unique nutritional needs.
Revolutionary Footwear
Fall for luxurious style and refreshing support from Dr. Weil Integrative Footwear – good-for-you shoes that promote wellness from the ground up. Built into the footbed of every pair, this innovative motion-control technology takes you where you want to go, balanced, energized and in comfort. To learn more, visit www.weilbeing.com.