Have a Metallic Taste in Your Mouth?
Published: 09/30/2013
Learn More:
Diet to Cure SIBO?
Related:
Gastrointestinal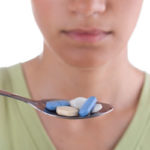 A metallic taste in the mouth is a surprisingly common complaint. While there is a variety of potential causes, the most typical are related to medications and dental issues. If you are experiencing a metallic taste in your mouth, try the following:
Review your meds. Discuss any you are taking with your physician to rule out ones that may contribute to the problem at hand.
Get a thorough general checkup to rule out any undiagnosed health problems.
Visit your dentist to address any dental health issues such as gum disease or previous dental work that needs to be repaired.
Practice good oral hygiene – brush and floss your teeth carefully at least twice a day and use a tongue scraper to remove the bacteria and debris that can collect on your tongue.
Increase the amount of water you drink. Keep quality water with you and drink a little more than you think you need.
Find out which vitamins are right for you.
Everyone's dietary needs are different based on a number of factors including lifestyle, diet, medications and more. To find out
what vitamins you need
, take the
Weil Vitamin Advisor
. This 3-step questionnaire requires just minutes to complete, and generates a free, no-obligation vitamin and nutritional supplement recommendation that is personalized to meet your unique nutritional needs.
Want to Continue the Year on a Healthy Note?
Good health begins in the kitchen. Fresh fruit and vegetable juices are easy with the Dr. Weil Healthy Kitchen Juice Extractor. This powerful yet quiet machine automatically separates juice and pulp into individual containers and is simple to use and clean. Learn more!