Dr. Weil and His Dogs
Published: 04/27/2013
Learn More:
Bruises
Related:
Condition Care Guide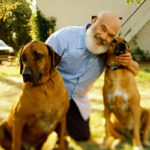 Companion animals enrich our lives. Research shows that pet owners have less illness, recover faster from serious health conditions, and tend to be happier than people who do not own pets. And a special bonus for dog owners: since you'll need to walk and play with your dog, it encourages you to get more exercise yourself.
My dogs, Asha & Ajax, are the third generation of Rhodesian Ridgebacks that I've owned. I seek out this breed because they thrive in hot, dry climates, making them the perfect companion animals for those who like to be out and about in the Arizona heat. Their affectionate natures always lift my spirits at the end of a long, stressful day.
See pictures of Dr. Weil and his dogs here!
Find out which vitamins are right for you.
Everyone's dietary needs are different based on a number of factors including lifestyle, diet, medications and more. To find out
what vitamins you need
, take the
Weil Vitamin Advisor
. This 3-step questionnaire requires just minutes to complete, and generates a free, no-obligation vitamin and nutritional supplement recommendation that is personalized to meet your unique nutritional needs.
Companion Animals for Health!
Animals can have a positive effect on people: Studies have shown that pet owners have lower blood pressure, are less likely to be depressed and have higher self-esteem than people who don't care for companion animals. Learn more about companion animals when you join SpontaneousHappiness.com. This eight-week plan addresses the gentle, natural therapies that can help treat depression – including the benefits of pets! Start your 10-day free trial now.