DIY Foot Massage
Published: 10/28/2013
Learn More:
New Rules on Gluten-Free Food Labeling?
Related:
Food Safety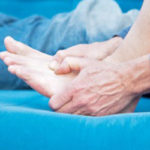 Give your feet a break with this four-step foot massage recommended by the American Massage Therapy Association. You can do it by yourself or with the help of a partner.
Using your thumb or the heel of your hand, stroke the sole of your foot in a straight line from the heel to the base of your toes. Use a motion that goes back and forth across the foot.
Massage the area between your toes using your fingers and your thumb. Wiggle the toes and pull each one gently. Then move to the four metatarsal bones that run along the top and middle of the foot. Moving from the base of your toes to just above your ankle, slowly massage one area at a time.
Using your thumb, press a spot on your sole and make small, circular movements. Repeat until you've covered the entire sole of your foot.
Still working the sole, use your pointer and middle fingers to make crosswise movements, back and forth, from the heel to the ball of your foot.
Find out which vitamins are right for you.
Everyone's dietary needs are different based on a number of factors including lifestyle, diet, medications and more. To find out
what vitamins you need
, take the
Weil Vitamin Advisor
. This 3-step questionnaire requires just minutes to complete, and generates a free, no-obligation vitamin and nutritional supplement recommendation that is personalized to meet your unique nutritional needs.
Post acne marks? Age Spots? UV damage?
Before considering a derm or drastic measure, discover Dr. Weil for Origins™ Mega-Bright Skin Tone Correcting Serum. Although it's not the same as a medical treatment, 83% of those tested showed a visible reduction in the appearance of dark spots in just 4 weeks. Click to read reviews from real women and see why they love Mega-Bright. Order today & it ships free!