Breast Cancer: Good Foods
Published: 10/07/2013
Learn More:
Breast Pain During Exercise?
Related:
Exercise & Fitness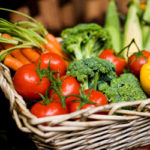 Diet and nutrition can play a significant role in the chances of developing breast cancer, especially if you have a family history of the disease. The following foods may help to prevent or lessen the risks – Dr. Weil encourages all women to give them a try:
Use healthy fats: Monounsaturated fats found in a high quality, extra virgin olive oil, and polyunsaturated omega-3 fats from freshly ground flaxseed and oily fish such as wild Alaskan salmon and sardines may help reduce your risk of developing breast cancer.
Include whole soy products in your diet. Soy foods contain many cancer-protective substances, including isoflavones. Try to eat one to two servings of whole soy-based foods a day.
Eat more fruits and vegetables! Especially cruciferous vegetables such as broccoli, bok choy and cauliflower, which contain many different cancer-protective phytonutrients.
Don't miss tomorrow's Daily Tip for information on foods to avoid, and for more healthy nutrition advice, join the Dr. Weil on Healthy Aging online plan: start your 14-day free trial today and save 30% when you join.
Find out which vitamins are right for you.
Everyone's dietary needs are different based on a number of factors including lifestyle, diet, medications and more. To find out
what vitamins you need
, take the
Weil Vitamin Advisor
. This 3-step questionnaire requires just minutes to complete, and generates a free, no-obligation vitamin and nutritional supplement recommendation that is personalized to meet your unique nutritional needs.
Revolutionary Footwear
Fall for luxurious style and refreshing support from Dr. Weil Integrative Footwear – good-for-you shoes that promote wellness from the ground up. Built into the footbed of every pair, this innovative motion-control technology takes you where you want to go, balanced, energized and in comfort. To learn more, visit www.weilbeing.com.