Blueberry Pie
Published: 04/11/2014
Learn More:
Had it with Hives?
Related:
Allergy & Asthma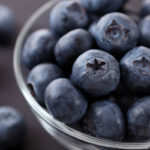 Blueberries are among the most antioxidant-rich foods in the world. Their healthy benefits come from anthocyanins, the natural pigments that give them their color, and loads of vitamin C. This delightful pie is chock full of these dark-blue gems. The cooked and cooled filling is poured into a nine-inch baked pie crust. Our recipe for Easy Pie Crust makes two nine-inch crusts. If you have two pie pans, bake both crusts. Use one for this pie and wrap and freeze the other for another pie, another day!
Food as Medicine
Red wine is correctly promoted as heart-healthy because it is a good source of antioxidants known as anthocyanins. But a study published in the Journal of Food Chemistry found that a wine made from blueberries delivers 38 percent more of these free-radical fighters.
Try our Blueberry Pie recipe!
Want more information on nutrition? Learn more about the 11th Annual Nutrition & Health: State of the Science and Clinical Applications Conference, featuring Dr. Weil and other experts!
Find out which vitamins are right for you.
Everyone's dietary needs are different based on a number of factors including lifestyle, diet, medications and more. To find out
what vitamins you need
, take the
Weil Vitamin Advisor
. This 3-step questionnaire requires just minutes to complete, and generates a free, no-obligation vitamin and nutritional supplement recommendation that is personalized to meet your unique nutritional needs.
Want to get "healthy in a hurry"?
Sign up for the"EatingWell This Week" Free E-Newsletter – full of in-season recipes, healthy-in-a-hurry suppers, EatingWell Test Kitchen cooking techniques and tips, product and tool ratings. And get a free gift – a digital mini-cookbook.Click here for free e-newsletter!