Better Sleep Via This Scent?
Published: 05/26/2013
Learn More:
Chickenpox
Related:
Condition Care Guide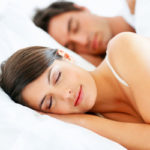 If you experience anxiousness and troubled sleep, but don't want to use prescription or over-the-counter sedatives, consider jasmine. Researchers have found that the scent of jasmine is as effective as Valium and similar drugs for relieving anxiety, promoting more peaceful sleep, and reducing anxiety upon waking. Particular jasmine fragrances were even shown to have the same neurochemical mechanism of action as barbiturates.
You can get the benefits of jasmine by taking a warm bath or shower with jasmine-scented soaps before bedtime, or placing a diffuser containing jasmine in your bedroom. Other recommendations for getting quality rest include paying attention to your sleep hygiene – don't drink anything containing caffeine or alcohol for a few hours before bedtime, keep your bedroom at a comfortable temperature and make sure there is minimal or no light when you go to sleep. It's also helpful to spend time outdoors during the day.
Find out which vitamins are right for you.
Everyone's dietary needs are different based on a number of factors including lifestyle, diet, medications and more. To find out
what vitamins you need
, take the
Weil Vitamin Advisor
. This 3-step questionnaire requires just minutes to complete, and generates a free, no-obligation vitamin and nutritional supplement recommendation that is personalized to meet your unique nutritional needs.
Depressed? Anxious? Sad?
You aren't alone. Dr. Weil's new website, SpontaneousHappiness.com, can help. This eight-week plan features simple, effective and natural ways to address depression, anxiety and stress. Weekly videos, checklists, tools and more guide you on the path to serenity and contentment. Learn more – start your free trial today.