6 Simple Ways To Minimize Jet Lag
Published: 12/29/2013
Learn More:
Vitamin B6
Related:
Vitamin Library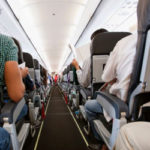 Are you traveling by air over the holidays? Even the best travel plans can include unwanted side effects such as jet lag. You can help prevent and lessen the effects with these simple steps:
Drink plenty of water. Keep yourself well hydrated throughout the flight.
Avoid caffeine and alcohol, and limit your sugary drink intake – these beverages can send your blood sugar and sleep cycle on a rollercoaster ride.
Food is harder to digest at high altitudes so eat lightly during the flight and avoid the high-salt, high-fat entrees the airlines and airports tend to serve.
Get up and stretch now and then to stimulate your circulation and dress comfortably. Learn more about stretching.
When you arrive, expose yourself to as much natural daylight as you can. Light is the most powerful influence on the timing of your body's internal clock.
Consider melatonin. You can take 2.5 mg of melatonin sublingually at bedtime for one or two nights to significantly reduce jet lag, regardless of the direction of travel.
Find out which vitamins are right for you.
Everyone's dietary needs are different based on a number of factors including lifestyle, diet, medications and more. To find out
what vitamins you need
, take the
Weil Vitamin Advisor
. This 3-step questionnaire requires just minutes to complete, and generates a free, no-obligation vitamin and nutritional supplement recommendation that is personalized to meet your unique nutritional needs.
Brush Creek Organic Foods – Certified Organic Golden Flaxseed
An amazing gluten-free grain with the perfect balance of omega 3, 6 & 9 fatty acids. Consumption of ground flaxseed on a daily basis may help support heart, brain, prostate, breast, immune and joint health. Check out research studies of this and cooking recipe ideas such as using flaxseed as a substitute for eggs and butter or as a great nutty tasting topping over yogurt, cereal, salads, smoothies & more at www.bcof.com. "Where health comes first."