5 Surprising Ways to Manage Cholesterol
Published: 08/27/2013
Learn More:
Promoting Healthy School Lunches?
Related:
Children's Health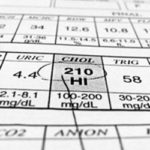 For people battling high cholesterol, choosing meals wisely can be a challenge, but it is essential. Restaurants, parties, even an office potluck may present unhealthy temptations. But simple dietary modifications can help you eliminate those unhealthy choices:
Reduce sugar and flour. Recent research indicates that added sweeteners and flour-based carbohydrates, which are far too abundant in the American diet, are major contributors to obesity and heart disease.
Avoid trans-fat. Stay away from items that list "partially hydrogenated oil" on the label, especially snack foods such as chips or popcorn. Try baked or air-popped versions instead.
Use fresh garlic regularly in your meals. Garlic has been shown to help lower cholesterol levels.
Drink green tea daily. The antioxidants in green tea help lower cholesterol and prevent the cholesterol in your blood from oxidizing.
Eat plenty of soluble fiber. It has a powerful cholesterol-lowering effect. The best sources are beans and lentils, apples, citrus fruits, oats, barley, peas, carrots and freshly ground flaxseed.
Find out which vitamins are right for you.
Everyone's dietary needs are different based on a number of factors including lifestyle, diet, medications and more. To find out
what vitamins you need
, take the
Weil Vitamin Advisor
. This 3-step questionnaire requires just minutes to complete, and generates a free, no-obligation vitamin and nutritional supplement recommendation that is personalized to meet your unique nutritional needs.
Delicious Meals for a Healthy Heart?
Don't sacrifice taste when it comes to eating for the health of your heart – join Dr. Weil on Healthy Aging! We have over 300 anti-inflamatory recipes, including ones that are heart healthy. Start your 14-day free trial for access to recipes such as Salmon Panzanella, Tricolor Coleslaw, Basque Vegetable Rice and more. This plus eating and shopping guides, exclusive how-to cooking videos featuring Dr. Weil, and more! Start your free trial today and save 30% when you become a member!