4 Reasons to Eat Quinoa
Published: 09/18/2013
Learn More:
Choline
Related:
Vitamin Library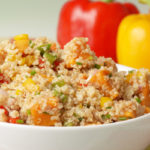 If you've been hearing more about quinoa lately, it's not a surprise. Considered a "super food," quinoa, (pronounced KEEN-wah) is a relative of beets, spinach and Swiss chard, but its seeds resemble couscous and are prepared and eaten in much the same way. Available in light brown, red and even black varieties, quinoa is light yet filling and has a mellow flavor.
Quinoa is:
High in magnesium – magnesium helps relax blood vessels, which may result in fewer headaches for migraine sufferers and decreased risk of hypertension and stroke.
A good source of manganese, iron, copper, phosphorous, vitamin B2 and other essential minerals.
The richest source of protein of any grain. It is especially high in lysine, an amino acid that is typically low in other grains. Quinoa's protein is complete, containing all nine essential amino acids – a rarity in the plant kingdom.
Gluten-free and easy to digest.
Once available only in health food stores, quinoa is becoming more mainstream by the day and is easily found in major grocery stores as well.
Read more about quinoa and other whole grains.
Find out which vitamins are right for you.
Everyone's dietary needs are different based on a number of factors including lifestyle, diet, medications and more. To find out
what vitamins you need
, take the
Weil Vitamin Advisor
. This 3-step questionnaire requires just minutes to complete, and generates a free, no-obligation vitamin and nutritional supplement recommendation that is personalized to meet your unique nutritional needs.
Sensitive to Redness and Irritation?
Get relief with Dr. Andrew Weil for Origins™ Mega-Mushroom Collection. The award winning Mega-Mushroom Skin Relief Soothing Face Serum is clinically proven to help calm and soothe skin. Try the award-winning collection – get 3 FREE samples! 1-week supplies of Mega-Mushroom cleanser, serum & face mask. Plus, FREE shipping on any $40 purchase. Limited time offer. Use code MUSHROOM at checkout.