3 Reasons to Eat Swiss Chard
Published: 08/23/2013
Learn More:
Risks of Quitting Smoking?
Related:
Addiction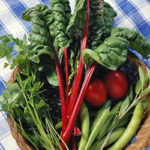 Each Friday in August look for healthy tips on favorite foods, courtesy of Dr. Weil on Healthy Aging. For more nutrition information, start your 14-day free trial!

One of the dark, leafy greens that nutritionists frequently recommend, Swiss chard is similar to spinach, kale and collard greens. Tall and leafy with a crunchy stalk, chard is slightly salty and a tad bitter, and works well with fish and vegetable dishes. But what makes chard so compelling is its nutritional profile. Chard is:
An excellent source of vitamins A, K, C, E, magnesium, manganese, potassium and iron.
A good choice to lower cancer risk. Its combination of minerals, phytonutrients and fiber may help to prevent digestive tract cancers, including colon cancer.
A rich source of vitamin K, which is needed for production of osteocalcin (a protein important in bone and tooth mineralization).
If you are unfamiliar with chard, try substituting it in recipes that call for fresh spinach or other greens. Experiment with seasonings, and you will likely find chard to be a welcome addition to your healthy diet. When choosing Swiss chard, look for stalks and leaves that are paler in color, as white chard tends to be the most tender. And if you're looking for an easy vegetable to grow, chard needs little care and thrives in almost any climate.
Try Swiss Chard in Hot & Sour Greens.
Find out which vitamins are right for you.
Everyone's dietary needs are different based on a number of factors including lifestyle, diet, medications and more. To find out
what vitamins you need
, take the
Weil Vitamin Advisor
. This 3-step questionnaire requires just minutes to complete, and generates a free, no-obligation vitamin and nutritional supplement recommendation that is personalized to meet your unique nutritional needs.
Sensitive to redness and irritation?
Get relief with Dr. Andrew Weil for Origins™ Mega Mushroom Collection. The award winning Mega-Mushroom Skin Relief Soothing Face Serum is clinically proven to help calm and soothe skin. Limited time offer. Enjoy 1-week supplies of Dr. Andrew Weil for Origins™ Mega-Mushroom serum and cleanser + free shipping with any $30 Origins.com purchase. Use code MUSHROOM3 at checkout.