Exercise & Fitness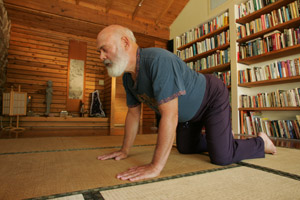 The human body is meant for movement. A wide variety of modern epidemics, from heart disease to diabetes to osteoporosis, are rooted in our sedentary lifestyles. Lifelong physical activity is crucial to optimum health, but running marathons is not required. For a sensible perspective, explore here.
NEW! Watch as Dr. Weil discusses his lifelong exercise preferences.
Related Exercise & Fitness Articles
All Related Exercise & Fitness Articles
Related Q&A's
A Pill to Replace Exercise?
Can you tell me anything about this so-called "exercise pill" I've been hearing about? It sounds far-fetched to me.
A Watery Workout?
What do you think of rowing for physical fitness?
Are Ultramarathons Unhealthy?
I've run a couple of marathons, and found that I enjoy the challenge. I'm thinking about training for an ultramarathon - a 100-mile race. Do you think this is healthy?
Arnica for Pain?
What can you tell me about using arnica to relieve muscle strain?
Balance Board: Are You Losing Your Balance?
What can you tell me about the use of a rocking balance board? Do you think it is a safe exercise device for improving balance and muscle tone?
Best Time for Exercise?
I am not a morning person so exercising before work is out of the question. This leaves only the evening for my workout, but I'm wondering if exercising at that time of day is okay? I sometimes find it hard to fall asleep after a vigorous workout.
Better to Run Barefoot?
Has there been any new research that settles the issue of whether it is better to wear shoes for running or learn to run barefoot? I'm interested in whether barefoot running really does result in fewer injuries as some runners claim.
Bikram Yoga: Too Hot to Handle?
What can you tell me about Bikram yoga that's done in an extremely hot room? It is supposed to warm and stretch muscles and ligaments. Do you think it is safe?
Breast Pain During Exercise?
I'm a runner (female), and I have a problem with breast pain when I run. I wear a sports bra, but it doesn't help much. Is there anything else I can do to avoid the pain or at least to minimize it?
Burn Calories with Belly Dancing?
I recently started taking a belly dancing class. I was surprised at how good I feel after the class (which includes stretching and meditation at the end of each class). Is this a good way to get fit?
Can Exercise Make You Sick?
My husband has been diagnosed with respiratory reactive disease. He has always been very active hiking and biking but was ill for most of last fall and winter. What do you recommend he do to stay healthy and fit?
Can Exercise for Depression Backfire?
Exercise is recommended to help alleviate depression, but I find that frequently after (and sometimes during) exercise I become extremely depressed or extremely angry. It makes me want to avoid exercising at all. What is happening? What can I do to prevent feeling so terrible after exercising?
Choosing the Right Weights?
I'm a middle-aged man in good health. What machines at the gym will benefit me most?
All Related Exercise & Fitness Q&A's