Anti-Inflammatory Diet & Pyramid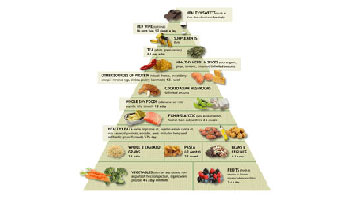 "Following an anti-inflammatory diet can help counteract the chronic inflammation that is a root cause of many serious diseases, including those that become more frequent as people age. It is a way of selecting and preparing foods based on science that can help people achieve and maintain optimum health over their lifetime."


Dr. Weil's Anti-Inflammatory Food Pyramid – What Is It?
It is a practical eating guide that consumers of all ages can use, with tips on how to reduce risks of age-related diseases and improve overall health through diet.
It is an interactive educational graphic to help today's families prevent disease while eating well.
It is a simple tool that promotes optimum health and healthy aging by providing dietary advice that addresses inflammation.

What Does An Anti-Inflammatory Diet Do?
The anti-inflammatory diet is a blueprint for a lifetime of optimum nutrition. Simple changes in how you eat can help counteract chronic inflammation, a root cause of many serious diseases, including:
Watch Dr. Weil discuss "Why Should We Eat an Anti-Inflammatory Diet?"
Click the play button on the video below.
The Anti-Inflammatory Diet on Dr. Weil on Healthy Aging
Dr. Weil on Healthy Aging has a strong focus on the anti-inflammatory diet, including:
An exclusive version of the food pyramid with direct links to recipes for anti-inflammatory foods that use the recommended examples
Anti-inflammatory diet eating and shopping guides
Hundreds of recipes that follow the anti-inflammatory diet principles
Exclusive videos featuring Dr. Weil discussing nutrition
Seasonal food guides, and more
Try this FREE anti-inflammatory recipe and begin your free trial of Dr. Weil on Healthy Aging today!
What Dr. Weil on Healthy Aging Members are saying:
I have tried the anti-inflammatory diet, and it is healing my body more than medicine and even exercise. It's amazing how nutrition has much more effect on healing in many cases. I just didn't know if using these seeds would stagnate my healing process, and if I should maybe reintroduce them after my body has come closer to healing."
~ Jeremias
"I try to follow the Anti-Inflammatory diet as much as I can. I tell everyone I know about it. I notice when I stray from the Anti-Inflammatory too much I get agitated and I don't feel as healthy."
~ Melanie