Dr. Weil Opens His Restaurant, True Food Kitchen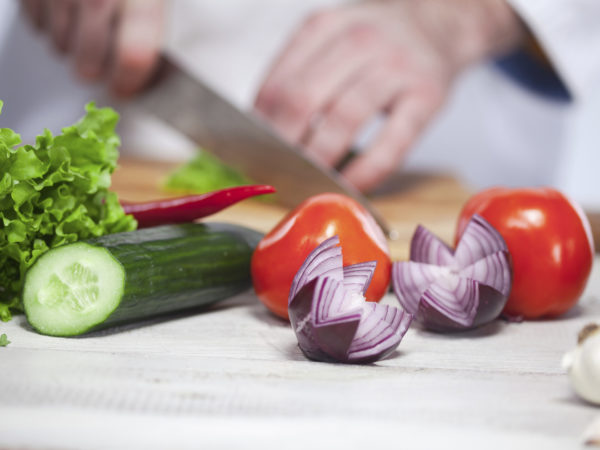 Under the motto "Great-tasting, globally inspired cuisine that nourishes body, mind and spirit," True Food Kitchen debuted in Phoenix, Arizona, on Monday, Oct. 27 (here are the restaurant's full details). During "soft-opening" lunches and dinners for invited guests from Oct. 24-26, Dr. Weil was omnipresent, quizzing diners, instructing chefs and even tweaking sweetener-packet selections. But he and co-owner Sam Fox took a brief break to talk with DrWeil.com about their two-year effort to get this unique restaurant up and running:
How long have you been thinking of starting a restaurant?
Dr. Weil: Years ago, when I first started cooking and serving my creations to guests in my home, an awful lot of them began saying that I should open a restaurant. The idea appealed to me, but I simply did not know the business. Some years later, I had the good fortune to meet a very successful restaurateur, Sam. I had eaten in Sam's restaurants, liked him, and liked the food.
Fox: I met Andy 10 years ago at one of my restaurants in Tucson [Fox operates 25 restaurants in Arizona and the Midwest], and we've been talking and working on this restaurant for a couple of years. At first, I was skeptical. But after spending time with him, and in particular after cooking with him at his ranch, I came to understand how good this food is, and I realized this could work.
So I gather Dr. Weil was intimately involved.
Fox: Absolutely. Many of the recipes we use come directly from him. He has great ideas, a great palate, and is an accomplished cook himself. He has worked with our chef Michael Stebner, the culinary team, the beverage supplier, everybody.
Dr. Weil: Yes, even on the décor.
Who do you see as your customer?
Dr. Weil: I think we have very broad appeal. This food is not strange, exotic or scary. When people think of health food, they think of raw food, vegan food, macrobiotic food, extremely low-fat food. This is quite different.
Fox: It's for everybody: Vegans, vegetarians, people who are trying to eat healthy, and people who want a good meal that happens to be good for you. We started with great tasting food, then worked backward from there, to ensure that the values aligned with Andy's nutrition concepts. But the first point was always, it has got to taste right.
Let's talk specifically about the food, which everyone here is raving about. What are the sources?
Fox: McClendon Farms [a 25-acre, USDA-certified organic produce farm in Peoria, Arizona] provides most of our produce. We source organic and local whenever possible.
What are the culinary traditions that you feature here?
Dr. Weil: There are both Mediterranean elements and lots of Asian food, especially ingredients from Japanese cuisine. It's a mix of the two healthiest food cultures in the world, the same one that's reflected in the Anti-Inflammatory Food Pyramid I developed.
And you have to try it to believe it. You've got "Wild Smoked Salmon with Shaved Radishes, Lemon Cream and Wasabi Peas," various pizzas, "Curry Chicken with Rice Noodles, Cauliflower and Cashews," and an amazing miso-glazed black cod, among other entrees. And as for the salads, I have dutifully eaten kilos of kale in my life, but I never had anything like that Tuscan Kale Salad.
Dr. Weil: That's a traditional Tuscan salad. It is made of strips of Tuscan black kale, tossed with lemon juice, olive oil, garlic, red pepper flakes, grated pecorino Tuscano cheese and bread crumbs. I think it is fantastic, and it has been a huge hit. We cooked this menu for food writers in New York a week ago. Everybody loved it, but there was a food writer from Glamour magazine who immediately put up a blog entry saying that this was the most delicious salad she had ever had in her life.
Did you have to compromise in any sense to make the food accessible to everyone?
Dr. Weil: Sam said we have to have some beef on the menu. I don't eat beef. But I said, okay, if you want to do that in one or two dishes, that's okay, but it has to be grass-fed, natural beef. So there is a steak taco dish [Steak Tacos, Avocado, Tomatillo Salsa and Anasazi Beans], which people tell me is wonderful, and it is from that certified natural, grass-fed beef.
But Sam has had to compromise, too. I told him that I saw packets of artificial low-calorie sweeteners on the tables. I said, "Sorry, we just can't have this." So I will provide alternative low-calorie sweeteners, ones that are safe. They will be the new KAL stevia extract, which is the new stevia product that does not have the licorice aftertaste, and erythritol, the newest sugar-alcohol, which is quite safe and good-tasting.
What about the restaurant's other "green" features?
Fox: We have high-efficiency kitchen equipment, reclaimed materials, low voltage lighting, waterless urinals that will save about 40,000 gallons of water a year, and a Natura water purification unit that lets us make still and carbonated water right here, which we serve in sterilized, reusable glass bottles.
It's not uncommon for Sam to clone a successful concept – 10 of his 25 operations are "Sauce – Pizza & Wine" restaurants. Obviously, it's too soon to know if this could happen, but would you like "True Food Kitchen" to go national?
Fox: With any new restaurant, that idea is always in discussion.
Dr. Weil: I would absolutely like to see it expand to other cities, partially for selfish reasons – if there was one in Tucson, I would eat there all the time!
True Food Kitchen is located in the Biltmore Fashion Park at 2502 E. Camelback Rd., Suite 135, Phoenix, Arizona 85016. It is open seven days a week: Sunday through Thursday from 11 a.m. to 9 p.m. and Friday and Saturday from 11 a.m. to 10 p.m. Take-out is available for diners on the go. Reservations are not available. Telephone: 602-774-3488.