Walk To Lengthen Life?
I understand that we would all live longer if we took 12,000 steps a day. That seems like a lot of walking. Why so much?
Andrew Weil, M.D. | May 15, 2020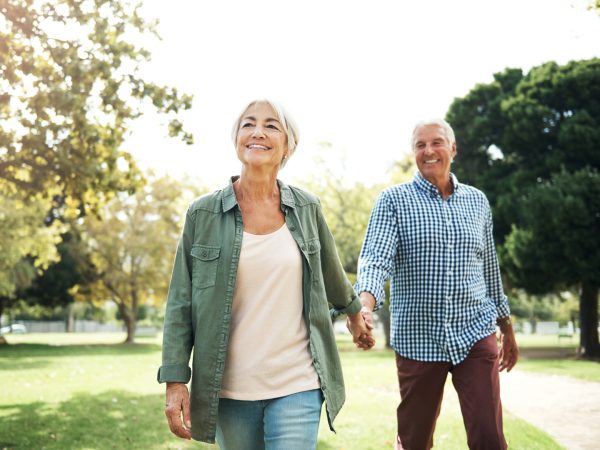 Findings from a large U.S. government study suggested that the more steps adults age 40 and older take daily the less likely they are to die from all causes over the following 10 years. A total of 4,840 adults took part in the study. They all wore accelerometers for up to seven days at some point between 2003 and 2006. They were then followed through 2015 so that researchers could determine how many participants had died and ascertain their causes of death. Risk factors were taken into account, as well as body mass index and health status on joining the study.
Results showed that adults who took 12,000 steps or more per day had a 65 percent lower risk of death from any cause, including cardiovascular disease and cancer, compared with those who took only 4,000 steps per day. Taking 8,000 steps per day lowered the risk by 51 percent. Higher step counts were associated with lower death rate from all causes in both men and women, younger and older adults, and white, black and Mexican Americans.
Study first author, Pedro Saint-Maurice, Ph.D., of the National Cancer Institute's Division of Cancer Epidemiology and Genetics, said, "While we knew physical activity is good for you, we didn't know how many steps per day you need to take to lower your mortality risk or whether stepping at a higher intensity makes a difference. We wanted to investigate this question to provide new insights that could help people better understand the health implications of the step counts they get from fitness trackers and phone apps."
The researchers said they were surprised at not finding a link between higher stepping intensity – walking speed – and all-cause death rates after adjusting for the total number of daily steps. They noted that few studies have investigated this issue and that future studies of walking intensity and mortality are needed.
While they controlled for factors that could have affected the results, they also noted that the study was observational and couldn't prove causality. Even so, they wrote that adults performing any amount of physical activity gain some health benefits.
These new findings add important information to what we already knew about the health benefits of walking. I've reported on this site about earlier research showing that among 8,000 men, those who walked two miles a day over 12 years had a nearly 50 percent lower risk of death. Walking also can help you lose weight and can benefit your brain: among people age 60 and older, a 45-minute daily walk at a brisk pace of a 16-minute mile has been shown to significantly improve cognitive performance. Another study found that 40 minutes of walking, three times per week, slowed the normal, age-related shrinkage of the brain's hippocampus, which plays a major role in learning and memory.
The more we move and the less we sit, the healthier – and longer – our lives are likely to be.
Andrew Weil, M.D.
Source:
Charles E. Matthews et al, "Association of Daily Step Count and Step Intensity With Mortality Among US Adults," JAMA, March 24, 2020; DOI: 10.1001/jama.2020.1382