Uncomfortable Sex?
I'm a postmenopausal woman for whom sex has become physically uncomfortable. What can you advise?
Andrew Weil, M.D. | June 14, 2018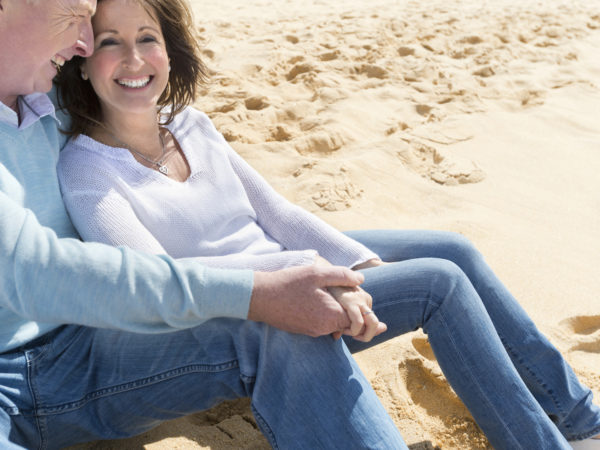 You're not alone. Research suggests that half of all postmenopausal women experience vaginal itching, dryness, irritation or pain during sexual intercourse and that more than half use no treatments for these problems. Such symptoms can impact quality of life as much as chronic conditions such as arthritis and irritable bowel syndrome.
Fortunately, there appears to be some good news on this front. A study involving 302 postmenopausal women has found at least three potential solutions to the discomforts women may experience with sex after menopause. All the women enrolled, most of them between the ages of 55 and 64, reported moderate to severe symptoms with sexual activity before the study began.
The investigators, from Harvard and six other research centers, randomly divided the women into three groups. One received a low-dose vaginal estrogen tablet and a placebo vaginal gel; another received a placebo tablet and a nonprescription vaginal moisturizer, and the third group was given the placebo tablets and gel. The women tested the treatments they were assigned for 12 weeks.
All three approaches worked.
At the end of the study, the researchers found that the women in each group had similar decreases in the severity of their single most bothersome symptom and that a similar proportion of women in each group had at least a 50 percent decrease in the severity of their overall symptoms. Improvement in sexual function and overall treatment satisfaction were similar across all three groups.
Researcher Caroline Mitchell, M.D. of Massachusetts General Hospital, described the finding as "great news for women, since it means that regular use of any of these treatments is likely to have benefit, whether the cost is $20 or $200." She also noted that the team was able to enroll more than 300 participants for the study in less than year, which she said testifies to the "significant impact of vaginal discomfort on the lives of women… (they) are desperate for some kind of intervention for these symptoms."
While there is a significant placebo effect in most studies of treatments for vaginal discomfort, Dr. Mitchell said the size of the response to placebo treatment in this one was surprising.
The upshot of all this is that an inexpensive, non-prescription vaginal lubricating gel seems to work as well as anything else for postmenopausal sexual discomfort. Because not all gels have the same effects, you should experiment to find an affordable product that works well for you.
Andrew Weil, M.D.
Source:
Caroline M. Mitchell et al, "Efficacy of Vaginal Estradiol or Vaginal Moisturizer vs Placebo for Treating Postmenopausal Vulvovaginal Symptoms A Randomized Clinical Trial." March 19, 20 JAMA Internal Medicine, March 19, 2018
JAMA Intern Med. Published online March 19, 2018. doi:10.1001/jamainternmed.2018.0116