Are Mushrooms Safe To Eat During Pregnancy?
Is it okay to eat mushrooms while I'm pregnant? Are some safer than others, and are there certain kinds of mushrooms to avoid during pregnancy?
Andrew Weil, M.D. | March 8, 2022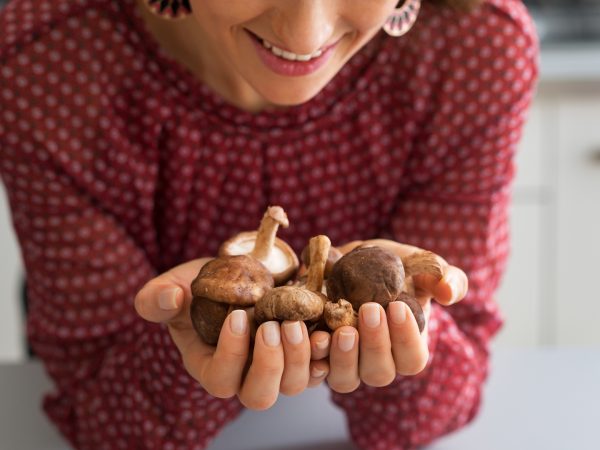 I'm a big proponent of including mushrooms in your diet, either in recipes or as supplements. Some of my favorite culinary mushrooms are shiitake, enoki, and maitake. I also recommend other varieties that are not suitable for cooking but have medicinal value, including turkey tail and reishi mushrooms, which are best taken as liquid extracts or in capsule form. It's important to know what mushroom variety you're eating, and you should not consume anything you've foraged in the wild and can't positively identify. But as long as you're choosing from the long list of safe and nutritious mushrooms, you may enjoy them any time, including while pregnant.
Chinese medicine has had much to teach us about the health benefits of fungi, and over the years Western medicine has investigated and validated the immune-enhancing and cancer-protective properties of shiitake, oyster mushrooms, maitake, enoki, and other species popular in Asia. They are nutritional powerhouses as well, providing vitamins and minerals while delivering very few calories. It appears they have a broad range of positive effects in the body, in fact, one 2020 study in China found that women who consumed 100 grams of cooked white mushrooms a day, starting before conception and continuing to their 20th week of pregnancy, had significantly lowered rates of gestational hypertension, preeclampsia, and gestational diabetes.
Be cautious about the mushrooms commonly sold in supermarkets in the United States, including Portobellos, cremini, and white or brown "button" mushrooms, which contain naturally occurring carcinogens. If you're going to eat those, cook them at high temperatures by sautéing, broiling, or grilling, since heat breaks down many of the toxins.
See my guide to my favorite mushrooms.
Andrew Weil, M.D.
Sources:
Sun, Linlin, and Zhanjie Niu. "A mushroom diet reduced the risk of pregnancy-induced hypertension and macrosomia: a randomized clinical trial." Food & nutrition research vol. 64 10.29219/fnr.v64.4451. 8 Jun. 2020, doi:10.29219/fnr.v64.4451 https://www.ncbi.nlm.nih.gov/pmc/articles/PMC7286351/