Zapping Bad Bugs In Water?
I've heard of the SteriPEN® travelers can use to sterilize water in developing countries. Is it safe? What about the dead bacteria and other pathogens left in the water?
Andrew Weil, M.D. | October 23, 2017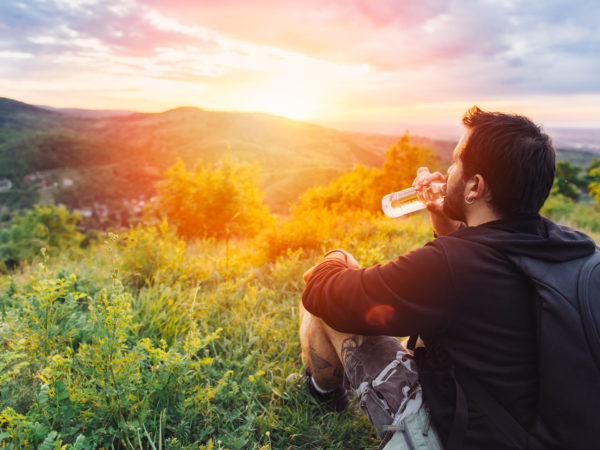 The SteriPEN® disinfects water with ultraviolet radiation. There are several models available, ranging in price from $50 to $130; the classic version is a lightweight (five ounce), battery-powered wand that reportedly can disinfect a quart of clear water in about a minute and a half. All you have to do is swirl it in the water for up to 90 seconds – it has a built-in timer that tells you when the time is up. The UV light destroys the DNA of bacteria, viruses and protozoa that cause traveler's diarrhea and other ailments. The device doesn't work with water that isn't clear or that contains leaves or other debris, and I've read that even with clear water, it is best run it through a filter before using the SteriPEN.
A German study published in 2015 determined that the SteriPEN works as advertised when you use it correctly and has the advantages of being lighter to carry than ceramic filters, yields no chemical by-products that cause an irritating smell or taste, is faster than chemical treatment (30 minutes to two hours for the chemicals v. 90 seconds for the SteriPEN), and takes less time than boiling water and then cooling it.
And of course it benefits the environment by eliminating the need to carry disposable plastic bottles of water.
The study also identified several disadvantages, including a fragile light bulb (the researchers recommended packing a backup) and the limited lifetime of the batteries. (You can disinfect about 100 liters of water with the four AA lithium batteries that power the device.) The German researchers also wrote that the SteriPEN might be less effective in long, slim, narrow-mouthed bottles than in shorter wide-mouthed containers, and they noted that it does not remove toxins or heavy metals.
The study found that when used correctly, the SteriPEN eliminated more than 99.99 percent of the E. coli and Staphylococcus aureus present in the water tested. However, the investigators noted that if the water wasn't agitated prior to using the SteriPEN, disinfection was less complete, no matter what the type of container. They also made the point that droplets of water in the bottle cap or neck aren't disinfected when using the SteriPEN and are a potential source of recontamination. The team recommended drying this water with a clean towel or flushing bottle caps with some of the disinfected water.
I haven't used the SteriPen myself, but I will likely try it if I have the need on future trips. I see no reason for concern about dead organisms remaining in the water after disinfection.
Andrew Weil, M.D.
Source:
Lisa F. Timmermann et al, "Drinking water treatment with ultraviolet light for travelers – Evaluation of a mobile lightweight system." Travel Medicine and Infectious Disease, November-December 2015, doi.org/10.1016/j.tmaid.2015.10.005