Drinking Water Danger?
Can you tell me anything about hexavalent chromium, which I've heard can be found in tap water in many parts of the U.S.? I've read that there's a scandal in North Carolina about whether or not the water there is safe to drink.
Andrew Weil, M.D. | January 2, 2017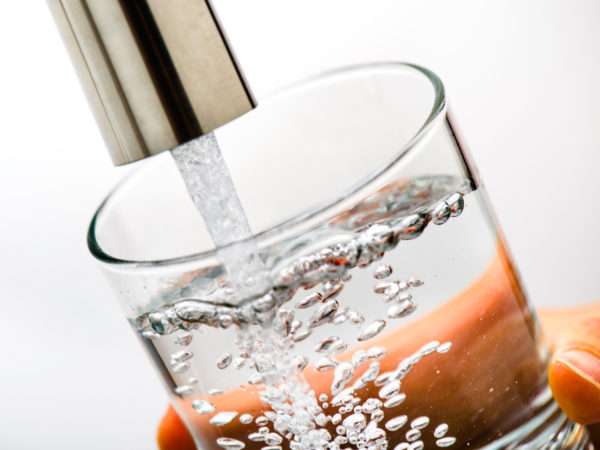 Hexavalent chromium, also known as chromium-6, is a carcinogenic chemical. It can get into the water supply after discharge from steel and pulp mills, as well as from metal-plating and leather-tanning facilities. This compound is sometimes referred to as the "Erin Brockovich chemical," because it is the one she successfully campaigned against in California in the 1990s after it was linked to an unusually high incidence of cancer. (The 2000 biopic "Erin Brockovich" tells her story.)
In 2010, tests commissioned by the Environmental Working Group (EWG), a Washington, D.C.-based non-profit environmental research organization, found hexavalent chromium in 31 of 35 tap water samples obtained from small and large cities across the U.S. The highest levels were detected in Norman, OK, Honolulu, HI and Riverside, CA. The cities selected for testing were those where potentially significant amounts of total chromium, which includes trivalent chromium as well as the toxic hexavalent form, had previously been detected in the water supply. At the time, California was the only state that required testing for hexavalent chromium. The EWG testing indicates it was present in tap water supplied to more than 26 million people in the 31 cities. All told, it's believed that 74 million Americans are exposed to "total chromium" (including hexavalent chromium
This environmental toxin was again in the news in the summer of 2016 because of a political controversy in North Carolina. Early in 2015 concerning levels of it were found in private wells of people living near 14 sites containing 32 Duke-Energy coal ash impoundments. Coal ash is the waste from coal burned by power plants and disposed of in landfills or ponds called impoundments. In sworn testimony, a state toxicologist said that hexavalent chromium would cause an increased lifetime risk of tumors in those who drink the well water, especially pregnant women, infants and children under the age of 12. The chemical is known to cause lung cancer when inhaled and is likely to be carcinogenic when ingested.
In April 2015, North Carolina officials sent "Do Not Drink" orders to 330 well owners explaining that their water was contaminated with hexavalent chromium. Later, the state public health director told the well owners the water was safe to drink even though no changes had been made. In response, the state's epidemiologist resigned in protest, charging that health authorities were misleading the public.
The North Carolina controversy led the EWG and Ms. Brockovich to urge the U.S. Environmental Protection Agency (EPA) to move quickly to set a national standard for safe amounts of hexavalent chromium in drinking water and to update the one for total chromium. The current Maximum Contaminant Level set in 1991 is for total chromium, not the hexavalent form that is of concern.
In the letter to the EPA, the EWG and Ms. Brockovich noted that only California has set an enforceable legal limit (10 parts per billion) and a public health goal of 0.02 parts per billion for hexavalent chromium in drinking water.
It is possible to filter hexavalent chromium from your drinking water. Check the EWG'S list of filters.
Andrew Weil, M.D.
Source:
Rebecca Sutton, "Chromium-6 in U.S. Tap Water." Environmental Working Group report, http://static.ewg.org/reports/2010/chrome6/chrome6_report_2.pdf?_ga=1.93590941.1059851734.1461972006, accessed August 17, 2016