Eating To Avoid Heart Attacks?
Is it true that the more foods from plants you eat the less likely you are to have a heart attack? If so, what proportion of your daily diet should come from plants?
Andrew Weil, M.D. | September 30, 2019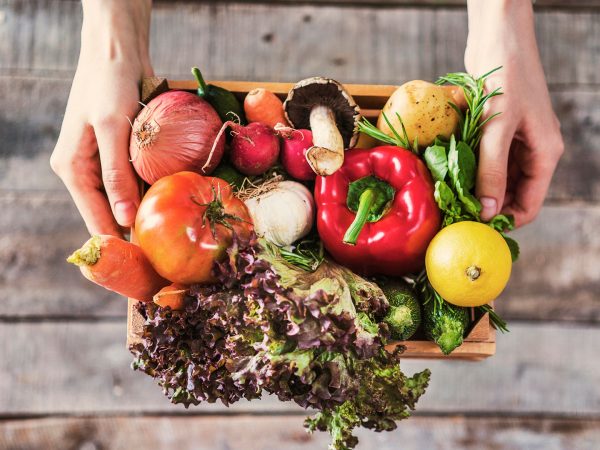 Results of a study published in August (2019) showed that daily diets mostly composed of plant-based foods lower the risk of dying from a heart attack, stroke or another cardiovascular disease. We've known for some time that vegetarians, particularly Seventh Day Adventists, who eat a mostly vegan diet, are heart healthy. This latest study looked at the effects of consuming plant-based versus animal-based foods among more than 10,000 U.S. adults who were followed from 1987 through 2016. None had cardiovascular disease when the study began.
The findings showed the following about people who ate the most plant-based foods, compared to their peers in the study:
They had a 16 percent lower risk of cardiovascular diseases (heart attack, stroke, heart failure and other heart conditions).
They had a 32 percent lower risk of dying from cardiovascular disease.
They had a 25 percent lower risk of dying from any cause compared to people who ate the least amount of these foods.
Study leader Casey M. Rebholz, Ph.D., assistant professor of epidemiology at Johns Hopkins Bloomberg School of Public Health, noted that the new findings "underscore the importance of focusing on your diet. There might be some variability in terms of individual foods, but to reduce cardiovascular disease risk people should eat more vegetables, nuts, whole grains, fruits, legumes and fewer animal-based foods." He added that the study results are consistent with previous findings about other dietary patterns, including the Dietary Approaches to Stop Hypertension (DASH) diet. Dr. Rebholz also stated that future research should examine whether the quality of plant-based foods – healthy versus less healthy or processed – impacts cardiovascular disease and death risks.
He also said that while you don't have to completely give up foods derived from animals, "our study does suggest that eating a larger proportion of plant-based foods and a smaller proportion of animal-based foods may help reduce your risk of having a heart attack, stroke or other type of cardiovascular disease."
We already know that the Mediterranean Diet – which is largely plant-based – can protect against both cancer and heart disease. Research has shown that people following a Mediterranean-style diet have a 33 percent reduction in the risk of death from heart disease, and a cancer death rate that IS 24 percent lower than it is for those who follow other eating plans.
Sales of plant-based foods increased by 11 percent during the past year, bringing the U.S. market to $4.5 billion. Reportedly, 31 percent of those following plant-based diets say they do so in order to manage their weight, while others are more concerned with avoiding processed foods. If you're one of them, be aware that not all plant-based foods are healthy enough to prevent heart attacks, or healthy at all – veggie burgers, for instance, can be loaded with fat from high-calorie ingredients such as cheese, sauces and toppings.
Andrew Weil, M.D.
Sources:
Casey M. Rebholz et al, "Plant‐Based Diets Are Associated With a Lower Risk of Incident Cardiovascular Disease, Cardiovascular
Disease Mortality, and All‐Cause Mortality in a General Population of Middle‐Aged Adults." Journal of the American Heart Association, August 7, 2019; 8 (16) DOI: 10.1161/JAHA.119.012865