Can Turmeric Help With Acne?
Is this Indian spice effective against breakouts?
Andrew Weil, M.D. | August 11, 2022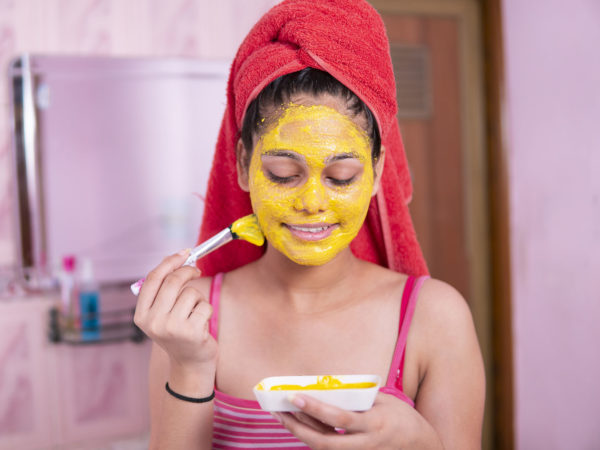 Acne occurs when the tiny sebaceous glands under the skin become clogged with oil and dead skin cells and form pimply bumps, which may appear as either blackheads or whiteheads. It can occur at any age, although it's seen most typically in teenagers, when the hormonal surges of puberty send the sebaceous glands into overdrive, producing an excess of the oily sebum that triggers a breakout. Hormones also likely drive the breakouts often seen in women during pregnancy, at certain times in the menstrual cycle, and in those with polycystic ovary syndrome (PCOS). There are a few natural remedies for breakouts, but turmeric is unlikely to be a very effective one.
Most over-the-counter acne products contain benzoyl peroxide as the active ingredient. Dermatologists may prescribe antibiotics for severe cases. Benzoyl peroxide is effective for most mild cases, but it can be irritating to the skin. Specific antibiotics can be helpful against acne-related bacteria, including Propionibacterium acnes and Staphylococcus epidermidis, but like all antibiotics they can lead to resistance, so I always look for alternatives before recommending them.
My go-to suggestion for acne is tea tree oil – it can take longer to work than benzoyl peroxide, but it may cause less irritation, and it has antimicrobial properties without the risk of antibiotic resistance. A gel of five percent tea tree oil may be as effective as five percent benzoyl peroxide. Use it twice a day after a gentle washing with glycerin or calendula soap.
In one study of the antimicrobial effectiveness of several essential oils against P. acnes and S. epidermidis, oregano had the strongest antimicrobial effect. Other essential oils that may help are thyme, chamomile, and lavender.  (See my guide to essential oils.)
As for turmeric, one 2016 report reviewed 18 studies of curcumin – the main active component of turmeric – on skin health. These studies covered both oral and topical forms of curcumin and their effects on not just acne but also alopecia, psoriasis, vitiligo, and other skin conditions. There was some evidence that the formulations had some benefits, but the results were not compelling for acne, where the study lasted only four weeks and only one of two people in the placebo group completed the trial. Given the better solutions available, I would not recommend turmeric-based therapies for acne.
Andrew Weil, M.D.
Sources
Vaughn AR, Branum A, Sivamani RK. Effects of Turmeric (Curcuma longa) on Skin Health: A Systematic Review of the Clinical Evidence. Phytother Res. 2016 Aug;30(8):1243-64. doi: 10.1002/ptr.5640. Epub 2016 May 23. PMID: 27213821. https://pubmed.ncbi.nlm.nih.gov/27213821/
Lalla JK, Nandedkar SY, Paranjape MH, Talreja NB. Clinical trials of ayurvedic formulations in the treatment of acne vulgaris. J Ethnopharmacol. 2001 Nov;78(1):99-102. doi: 10.1016/s0378-8741(01)00323-3. PMID: 11585696. https://pubmed.ncbi.nlm.nih.gov/11585696/
Taleb MH, Abdeltawab NF, Shamma RN, Abdelgayed SS, Mohamed SS, Farag MA, Ramadan MA. Origanum vulgare L. Essential Oil as a Potential Anti-Acne Topical Nanoemulsion-In Vitro and In Vivo Study. Molecules. 2018 Aug 28;23(9):2164. doi: 10.3390/molecules23092164. PMID: 30154336; PMCID: PMC6225355. https://pubmed.ncbi.nlm.nih.gov/30154336/