When The Mask Mandate Is Lifted Will We Be More Susceptible To Illness?
I've noticed that my family and I haven't gotten sick with colds or flu since wearing masks for COVID-19 protection. Will that change once masks are no longer required?
Andrew Weil, M.D. | July 1, 2021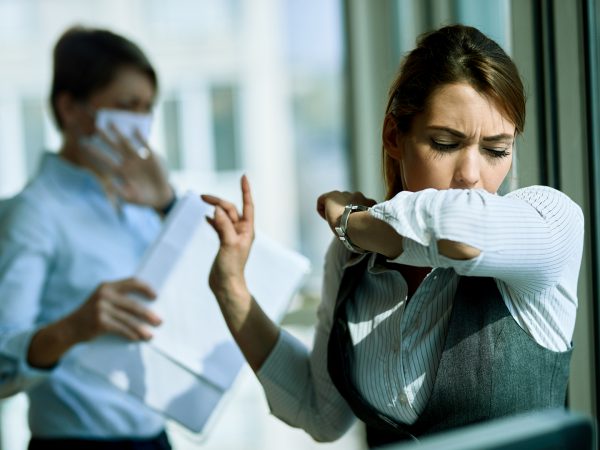 It's possible. While we currently associate the use of masks with protection against the virus that causes COVID-19, face coverings may also have value in helping prevent similar respiratory illnesses. We know that COVID-19 is spread through droplets that are released when someone infected with the SARS-CoV-2 virus sneezes, coughs, or even breathes. Face masks work by introducing one or more layers — of cloth, paper, or other materials — between your nose and mouth, and those droplets, so you don't inhale them. When worn by an infected person, face masks also help stop droplets from spreading. According to the U.S. Centers for Disease Control and Prevention (CDC), face masks can be very effective at quelling the spread of the SARS-Cov-2 virus when worn properly. Likewise, research in several countries suggests that mask mandates have had an impact on the spread of COVID-19: For instance, in Jena, Germany, one of the first cities to institute a mask mandate, cases of the disease dropped by about 75 percent within the first 20 days of implementing the rule.
Face coverings may be useful in helping protect against other viruses as well. Most of the research done in this area has involved their use to help prevent the spread of influenza (flu). For example, one small study looked at whether surgical face masks could help prevent the spread of respiratory droplets that contained the flu virus. The researchers found that, when worn by flu patients, the masks were associated with a more than threefold reduction in the amount of virus released into the air. A 2017 study of more than 13,000 schoolchildren in Japan — where face masks are typically worn as a hygienic practice — found that wearing a mask, as well as being vaccinated, appeared to reduce the risk of developing the flu.
Although the CDC currently recommends that only healthcare workers in contact with flu patients wear masks to protect themselves, it's possible that advice could change now that we've seen the value of face coverings with COVID-19. Last year's flu season was much more mild than usual, although it's difficult to say whether that was due to social distancing, vaccination against the flu, improved handwashing, or use of face masks. My guess is that a combination of these factors played a role.
While it's too soon to say whether we'll see a jump in cases of the flu or other respiratory infections after mask mandates are lifted, I suspect we might. My hope is that Americans will do as our peers in other countries have done for years: continue to wear face coverings when in public — at least during flu season and other times of higher viral transmission. When I was a child, my mother often wore a mask when she had a cold, and I got into the habit myself when visiting Japan and other Asian countries, where mask wearing when sick is the norm. Along with handwashing and social distancing, I believe that masks are a valuable tool to help stop the spread of certain illnesses.
Andrew Weil, M.D.
Sources:
Daniel Victor and Mike Ives, "Should We Wear Masks for Cold and Flu Season?" New York Times, May 17, 2021. nytimes/2021/05/13/science/masks-covid-flu-cold
Donald K. Milton, et al, "Influenza Virus Aerosols in Human Exhaled Breath: Particle Size, Culturability, and Effect of Surgical Masks," PLos Pathog, March 2013, 9(3): e1003205. ncbi.nlm.nih/pmc/articles/PMC3591312/
"Interim Guidance for the Use of Masks to Control Seasonal Influenza Virus Transmission," Centers for Disease Control and Prevention. cdc/flu/professionals/infectioncontrol/maskguidance
Lynne Peeples, "What the science says about lifting mask mandates," Nature, May 25, 2021. nature/articles/d41586-021-01394-0
Mitsuo Uchida, et al, "Effectiveness of vaccination and wearing masks on seasonal influenza in Matsumoto City, Japan, in the 2014/2015 season: An observational study among all elementary schoolchildren," Prev Med Rep, March 2017; 5: 86-91. ncbi.nlm.nih/pmc/articles/PMC5153448/