Recognizing ADHD In Adults
What are the signs and symptoms of attention deficit hyperactivity disorder in adults?
Andrew Weil, M.D. | September 19, 2022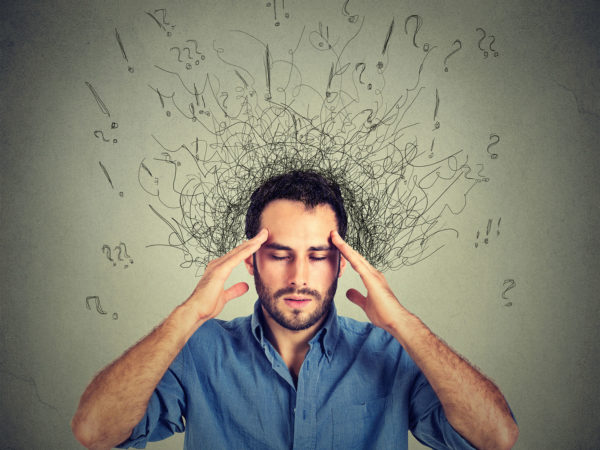 Attention deficit hyperactivity disorder (ADHD) is one of the most commonly diagnosed behavioral conditions in children and adolescents, but it is certainly possible for adults to experience its symptoms as well. Some adults who show signs of ADHD report having had ongoing symptoms since their early years, whether or not they were formally diagnosed when they were children. Others seem to develop symptoms in adulthood for the first time. The signs of ADHD in adults are similar to those found in children, but they manifest differently in patients more likely to be at a job than in a classroom.
As with the childhood form, adult ADHD comes in three variations: predominantly inattentive (having a lack of focus or organizational skill), primarily hyperactive/impulsive (having a drive to make movements or decisions without thinking), or a combination of those two presentations. Fewer than 5 percent of adults with ADHD have the predominantly hyperactive/impulsive presentation, with the majority having the combined or inattentive variations. In adults, inattention is evident in areas that involve executive function – the planning, organizing, and problem-solving that are more common in adult life than during childhood.
According to the organization Children and Adults with Attention-Deficit/Hyperactivity Disorder (CHADD), adults with ADHD may change jobs frequently, lack the skills to manage everyday tasks of living (paying bills, completing chores), and/or experience emotional distress over their feelings of frustration. They may have difficulty with relationships or substance use.
The World Health Organization developed a brief screening tool to help determine whether an adult would benefit from deeper evaluation and testing. The questions on the screener ask if the person has difficulty:
getting started on tasks that require a lot of thought; or
completing the early organizational steps of a complicated task;
wrapping up the final details of a task;
remembering appointments;
sitting still for long periods.
It also asks if the person reports being overly active, as if driven by a motor. Those whose responses to the screener suggest that ADHD might be present should consider consulting a professional for a more in-depth evaluation.
Andrew Weil, M.D.
Sources
Epstein JN, Loren RE. Changes in the Definition of ADHD in DSM-5: Subtle but Important. Neuropsychiatry (London). 2013 Oct 1;3(5):455-458. doi: 10.2217/npy.13.59. PMID: 24644516; PMCID: PMC3955126. https://www.ncbi.nlm.nih.gov/pmc/articles/PMC3955126/
Children and Adults with Attention-Deficit/Hyperactivity Disorder (CHADD) https://chadd.org/for-adults/diagnosis-of-adhd-in-adults/
Anbarasan D, Kitchin M, Adler LA. Screening for Adult ADHD. Curr Psychiatry Rep. 2020 Oct 23;22(12):72. doi: 10.1007/s11920-020-01194-9. PMID: 33095375. https://pubmed.ncbi.nlm.nih.gov/33095375/
Zalsman G, Shilton T. Adult ADHD: A new disease? Int J Psychiatry Clin Pract. 2016;20(2):70-6. doi: 10.3109/13651501.2016.1149197. Epub 2016 Apr 7. PMID: 27052374. https://pubmed.ncbi.nlm.nih.gov/27052374/
https://www.nimh.nih.gov/health/topics/attention-deficit-hyperactivity-disorder-adhd