Is the Delta Variant Really More Dangerous Than The Original Coronavirus?
How worried should we be about new variants of the coronavirus?
Andrew Weil, M.D. | September 16, 2021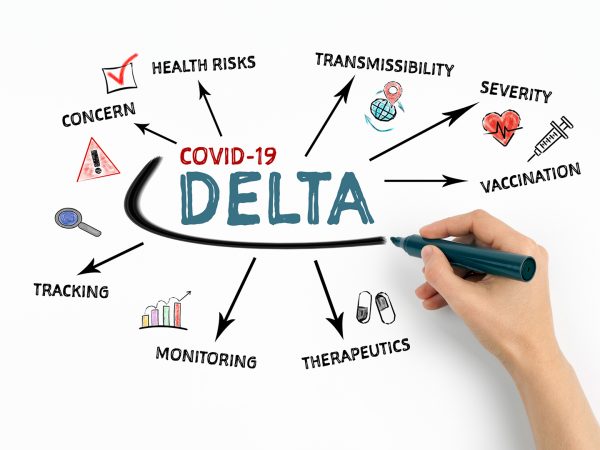 All living organisms have the potential to alter their genes as they reproduce, but one of the most interesting (and challenging) characteristics of viruses is just how quickly they mutate. Viruses are microscopic fragments of genetic code that cannot reproduce outside the cells of living hosts – in this case, us — and mutation randomly creates genetic diversity that may help them spread. The delta variant of the coronavirus, which was first identified in India in October 2020 and is now virtually the only strain circulating in the United States, spreads faster than the original SARS-CoV-2, is more than twice as contagious, creates a larger viral load in infected people, and may cause more severe illness, especially in those who are not vaccinated. So, the bad news is that yes, the delta variant is more dangerous than the original. Fortunately, there is more to the answer than that.
The good news, of course, is that the current vaccines for COVID-19 appear to be quite effective against the delta variant. The vast majority of those becoming ill with COVID-19 right now are those who have not been vaccinated, with a small number of infections reported in those who are partially or fully vaccinated. Those "breakthrough" infections in vaccinated people have been reported to cause less severe symptoms and result in fewer hospitalizations and deaths than in those who were not fully vaccinated.
Since immunity — either from exposure to the virus or from vaccination — can wane over time, it remains to be seen if those who have been inoculated against COVID-19 retain the same levels of protection in the months and years after immunization, and if those previously infected have defenses against variants. A recent study of antibody levels (which is one measure of how well prepared your body is to fight a new infection) showed that vaccinated people were better protected against the delta variant than those whose antibodies were the result of a previous coronavirus infection. The science is still evolving on whether booster shots will be beneficial or necessary to maintain protection and on how the current vaccines will perform against new mutations that develop.
It's a certainty that those new mutations will occur – the World Health Organization recently added the mu variant, first identified in Colombia, to its list of "variants of interest." Those variants are considered less of an immediate threat than those on the list of "variants of concern" (which now includes the alpha, beta, gamma, and delta strains), but both lists are certain to grow as the virus continues to mutate. Getting the vaccine, keeping your distance from others, and wearing a mask when in close quarters remain your best bets for avoiding infection.
Andrew Weil, M.D.
Sources:
Planas D, Veyer D, Baidaliuk A, Staropoli I, Guivel-Benhassine F, Rajah MM, Planchais C, Porrot F, Robillard N, Puech J, Prot M, Gallais F, Gantner P, Velay A, Le Guen J, Kassis-Chikhani N, Edriss D, Belec L, Seve A, Courtellemont L, Péré H, Hocqueloux L, Fafi-Kremer S, Prazuck T, Mouquet H, Bruel T, Simon-Lorière E, Rey FA, Schwartz O. "Reduced sensitivity of SARS-CoV-2 variant Delta to antibody neutralization." Nature. 2021 Aug;596(7871):276-280. doi: 10.1038/s41586-021-03777-9. Epub 2021 Jul 8. PMID: 34237773. https://pubmed.ncbi.nlm.nih.gov/34237773/
Adi Stern, Raul Andino. "Chapter 17 – Viral Evolution: It Is All About Mutations," Editors: Michael G. Katze, Marcus J. Korth, G. Lynn Law, Neal Nathanson, Viral Pathogenesis (Third Edition), Academic Press, 2016, Pages 233-240, ISBN 9780128009642, https://doi.org/10.1016/B978-0-12-800964-2.00017-3. https://www.sciencedirect.com/science/article/pii/B9780128009642000173