Is Dining Out A COVID-19 Risk?
After staying at home for months to avoid COVID-19, I've gone out to dinner a few times with friends. Now I hear that dining out is a big risk for infection. True?
Andrew Weil, M.D. | October 22, 2020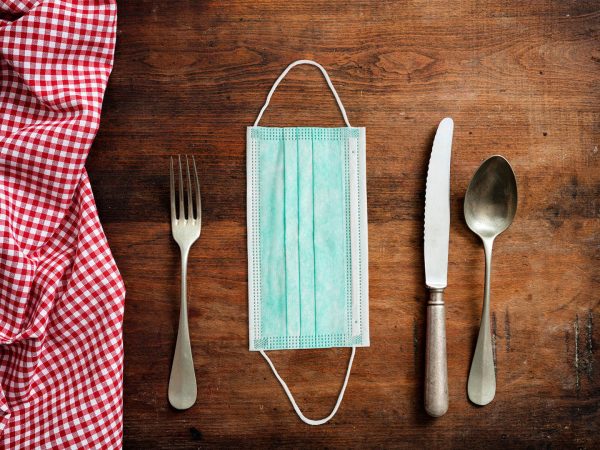 It's true that the U.S. Centers for Disease Control and Prevention (CDC) has identified dining out as one of the riskiest possible activities you can undertake during the COVID-19 pandemic. This finding stems from CDC interviews with some 314 people who reported virus symptoms and were tested. About half turned out to be positive. The investigators reported that people who tested positive and negative said they had attended church or gone shopping.  However, those who tested positive were about twice as likely as those who tested negative to report having dined at a restaurant.
Obviously, you can't wear a mask when eating or drinking, but there's no reason not to wear one while you're reading the menu and waiting for your order to be delivered. Bear in mind that virus droplets can spread more than six feet, which means that you're better off wearing your mask as much as possible when dining out, except when eating or drinking.
According to the CDC whether you're dining indoors, or outdoors tables should be spaced at least six feet apart.
Study co-author Todd Rice, an associate professor of medicine at Vanderbilt University Medical Center in Nashville, has noted online that "if people are going to eat out, they need to be thoughtful about how they're going to do it." He said he still wears his mask while sitting at a table before the food has arrived and added that he won't sit at a table next to somebody else. He also said that he requests outdoor tables.
In New York state Governor Andrew Cuomo has said bar service would remain unavailable once restaurants in the state reopen indoors (outdoor food service has been available in New York through the summer but won't continue once cold weather arrives). I understand that once New York restaurants begin to serve indoors, temperature checks will be required for all dine-in customers. I'm not sure how widespread that will be nationwide, but if you're dining out, you might be better off choosing restaurants that require temperature checks. Bear in mind that infectious disease experts maintain that outdoor spaces are safer than indoor areas, which have less ventilation.
For the record, the CDC's guidelines for dining out indicate that drive-thrus, delivery, take-out and curbside pick-up carry the lowest risk for COVID-19 transmission.
Andrew Weil, M.D.
Source:
Centers for Disease Control and Prevention, "Considerations for Restaurants and Bars," Sept. 6, 2020, cdc.gov/coronavirus/2019-ncov/community/organizations/business-employers/bars-restaurants.html