How Can I Prevent Shingles?
I've heard of several people lately who have gotten shingles. It sounds terrible! What can I do to
Andrew Weil, M.D. | June 29, 2023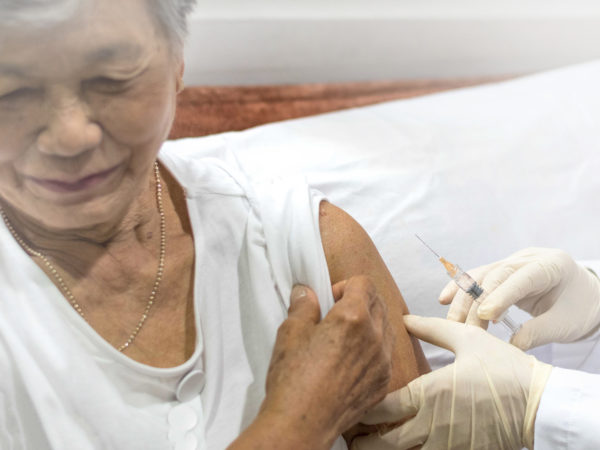 Shingles is the common name for herpes zoster, a painful condition characterized by a blistery rash that forms in a line along a nerve path on one side of the body. It is caused by varicella-zoster virus (VZV), the same virus that causes chickenpox, with outbreaks caused by a reactivation of that virus after decades of dormancy in the body. As we recently saw when Senator Dianne Feinstein returned to Washington, shingles can have serious complications, including encephalitis, facial paralysis, and balance problems. Even without those complications, shingles can be extremely painful and can sideline you for weeks. Taking steps to reduce your risk is wise indeed.
If you're an American over age 40, you almost certainly had chickenpox as a child. The Centers for Disease Control and Prevention (CDC) estimates that 99 percent of adults born before in or before 1980 have had it. (The vaccine was not approved for use here until 1995, at which time rates of chickenpox plummeted.) In otherwise healthy children, chickenpox was typically a mild illness, but the virus that caused it lingers in the body for life. If and when it reactivates, the result is shingles.
Shingles tends to develop in older adults (those over 50, although younger people can get it as well). Most at risk are those who are elderly, immunocompromised, under stress, or who have had other recent infections, including Covid-19. In rare cases, vaccination against another condition, including influenza and Covid-19, may trigger an outbreak of shingles.
The most effective way to reduce your risk is the shingles vaccine (Shingrix). The CDC recommends two doses for those 50 and over as well as for younger adults with compromised immune systems.
In addition to the vaccine, it's a good idea to keep your immune system strong. Get enough sleep, limit alcohol, try to manage your stress levels, and of course follow an anti-inflammatory diet. Read my guide to boosting your immune system here.
Andrew Weil, M.D.
Sources
Patil A, Goldust M, Wollina U. Herpes zoster: A Review of Clinical Manifestations and Management. Viruses. 2022 Jan 19;14(2):192. doi: 10.3390/v14020192. PMID: 35215786; PMCID: PMC8876683. pubmed.ncbi.nlm.nih/35215786/
Hertel M, Heiland M, Nahles S, von Laffert M, Mura C, Bourne PE, Preissner R, Preissner S. Real-world evidence from over one million COVID-19 vaccinations is consistent with reactivation of the varicella-zoster virus. J Eur Acad Dermatol Venereol. 2022 Aug;36(8):1342-1348. doi: 10.1111/jdv.18184. Epub 2022 May 13. PMID: 35470920; PMCID: PMC9114991. pubmed.ncbi.nlm.nih/35470920/