Can A Nasal Spray Protect Against COVID-19?
I've been hearing about the potential of nasal sprays to lower your risk of contracting COVID. Is that true, and if so what sprays are effective?
Andrew Weil, M.D. | August 24, 2021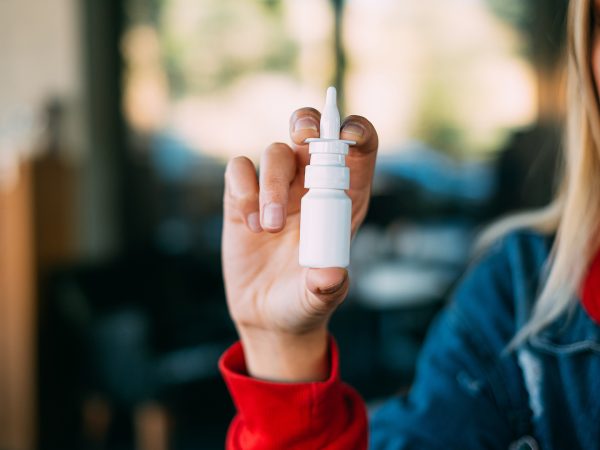 The SARS-CoV-2 virus that causes COVID-19 is an airborne organism, meaning that breathing in viral particles from infected people nearby is the main way it spreads. The virus can enter your body through your nose, eyes, or mouth, but since most of the air that you breathe in enters through your nose, your nostrils are the primary entryways for transmission. Stopping the virus there would certainly be an efficient way to help prevent infection.
Unfortunately, there is no nasal spray available in the United States that has been shown to protect against COVID-19, either by interfering with its transmission or by reducing the severity of disease. None of the over-the-counter nasal sprays available for allergies or asthma have any effect on COVID-19, but there are other formulas being developed, including therapies based on nitric oxide and carrageenan. Some of these are being tested in laboratories, and a few are even in clinical trials in humans.
Nitric oxide, or NO, is made naturally in the body and serves an important function as a vasodilator that improves circulation. It also has anti-viral properties, and we've known for more than a decade that it inhibits the replication of the first identified SARS coronaviruses. In 2020, laboratory tests showed it to be effective at stopping replication of the novel coronavirus, SARS-CoV-2.
Nitric oxide is currently being tested in humans to determine its effectiveness at preventing transmission of SARS-CoV-2, or to reduce the severity of illness by reducing the viral load in those who become infected. A nitric oxide nasal spray was recently granted an emergency use authorization in Israel and is now being evaluated in a clinical trial in Canada. Other clinical trials are beginning in other countries.
In March 2020, the FDA granted emergency use authorization for inhaled nitric oxide as a treatment for patients with severe illness from COVID-19. Its usefulness as a preventive measure is still unproven, however, and further clinical trials are needed to provide more information about its effectiveness as a treatment.
Carrageenan is a substance made from marine algae that has been shown in laboratory testing to be active against a wide range of viruses, including influenza, human papillomavirus, and many others.
A clinical trial now underway in the UK is testing the effectiveness of iota-carrageenan nasal and throat spray in preventing COVID-19 illness, or reducing the severity of symptoms, in healthcare professionals. Results of an unpublished clinical trial performed in Argentina suggest that health care workers treated with a combination of ivermectin drops and iota-carrageenan nasal spray were less likely to develop COVID-19 than untreated colleagues, and those who did get infected were less severely ill than those in the control group. I've written about ivermectin previously on this site.
There may be potential for these nasal sprays, but right now the best ways to keep the novel coronavirus out of your nostrils are to wear a mask and keep your distance from others who may be exhaling particles.
Andrew Weil, M.D.
Sources:
Akerström S, Mousavi-Jazi M, Klingström J, Leijon M, Lundkvist A, Mirazimi A. Nitric oxide inhibits the replication cycle of severe acute respiratory syndrome coronavirus. J Virol. 2005 Feb;79(3):1966-9. doi: 10.1128/JVI.79.3.1966-1969.2005. PMID: 15650225; PMCID: PMC544093. https://pubmed.ncbi.nlm.nih.gov/15650225/
Frediansyah A. The antiviral activity of iota-, kappa-, and lambda-carrageenan against COVID-19: A critical review. Clin Epidemiol Glob Health. 2021 Oct-Dec;12:100826. doi: 10.1016/j.cegh.2021.100826. Epub 2021 Jun 29. PMID: 34222718; PMCID: PMC8240443. https://pubmed.ncbi.nlm.nih.gov/34222718/
Moakes RJA, Davies SP, Stamataki Z, Grover LM. Formulation of a Composite Nasal Spray Enabling Enhanced Surface Coverage and Prophylaxis of SARS-COV-2. Adv Mater. 2021 Jul;33(26):e2008304. doi: 10.1002/adma.202008304. Epub 2021 May 31. PMID: 34060150; PMCID: PMC8212080. https://pubmed.ncbi.nlm.nih.gov/34060150/
Srivastava S, Garg I, Hembrom AA, Kumar B. Assessment of nitric oxide (NO) potential to mitigate COVID-19 severity. Virusdisease. 2021 Jun 3:1-6. doi: 10.1007/s13337-021-00702-6. Epub ahead of print. PMID: 34099981; PMCID: PMC8173103. https://pubmed.ncbi.nlm.nih.gov/34099981/
Akerström S, Gunalan V, Keng CT, Tan YJ, Mirazimi A. Dual effect of nitric oxide on SARS-CoV replication: viral RNA production and palmitoylation of the S protein are affected. Virology. 2009 Dec 5;395(1):1-9. doi: 10.1016/j.virol.2009.09.007. Epub 2009 Oct 1. PMID: 19800091; PMCID: PMC7111989. https://pubmed.ncbi.nlm.nih.gov/19800091/