Hot Bath To Lower Blood Sugar?
I've heard that taking a hot bath can lower your blood sugar? This sounds too good to be true. Is it?
Andrew Weil, M.D. | January 17, 2019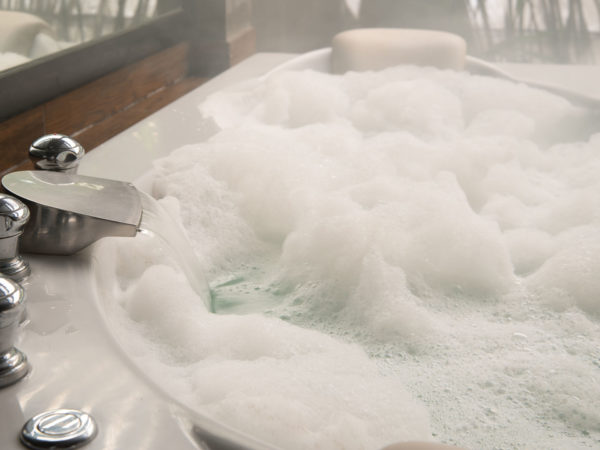 A study from the UK published in October 2018 found that soaking in a hot bath for an hour lowered blood sugar levels and limited inflammation in 10 sedentary, overweight men who were unable to exercise. The soaking also promoted release of a substance that lowers blood pressure. The researchers, at Loughborough University, compared these changes to those in eight sedentary men of similar size who acted as controls and rested instead of sitting in a bath.
The water temperature of the bath was 102 degrees Fahrenheit, and the men were immersed up to the neck. Throughout the hour the researchers checked the men's heart rate, blood pressure and body temperature every 15 minutes and took blood samples before and after the bath (and did the same for the controls).
The investigators reported that taking a single hot bath raised blood levels of IL-6, an inflammatory compound that also increases during exercise, and triggers the release of other substances that combat unhealthy levels of inflammation.
As part of the study, the men who had the hot baths were asked to have 10 more at home over the course of two weeks. They then had more blood tests, which showed an overall reduction of fasting blood sugar and insulin levels and decreased low-grade inflammation at rest.
This was a small study. It doesn't tell us how often baths like these would be needed to lower blood sugar and keep it down. Despite the encouraging results, hot baths to lower blood sugar may not be practical or desirable for many people. The men participating complained of discomfort during their baths, which could have been due to the hot water temperature or the length of time they had to remain in the tubs or both. The researchers acknowledged that these conditions may make it difficult for people unable to exercise to commit to or maintain this type of treatment.
According to the U.S. Centers for Disease Control and Prevention, some 84 million American adults may have higher than normal blood sugar levels – that's one out of three who may have "prediabetes." What's more, the CDC reports that 90 percent of those affected don't know their blood sugar is too high. Risks are highest if you're overweight, 45 years old or older, have a parent, brother, or sister with type 2 diabetes, and are physically active less than three times a week. Fortunately, you can head off diabetes if you get your blood sugar levels down through modest weight loss and regular physical activity. That means losing five to seven percent of your body weight and getting 30 minutes of brisk walking or other type of physical activity five days a week.
Andrew Weil, M.D.
Source:
Sven P. Hoekstra et al, "The acute and chronic effects of hot water immersion on inflammation and metabolism in sedentary, overweight adults." Journal of Applied Physiology, October 18, 2018, doi.org/10.1152/japplphysiol.00407.2018