Sugar Crush: Blood Sugar Too High?
My husband and sister have problems with glucose levels. I have been reading online about something called "Sugar Crush" that is supposed to help lower glucose levels. Do you have any comments about its effectiveness?
Andrew Weil, M.D. | December 12, 2011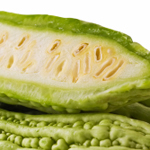 The product you mention contains sage, cinnamon, hibiscus and fenugreek. The manufacturer claims that this formulation can reduce blood sugar levels by up to 40 percent in 30 days. I haven't seen any independent research validating those claims, and the "Sugar Crush" formula contains nothing that has been proven to be as effective as the better-studied supplements described below:
Bitter melon (Momordica charantia): In one trial, a daily dose of five grams (about two teaspoons) of powdered bitter melon reduced blood sugar by 54 per cent; in another, about a quarter-cup of the extract reduced blood sugar by 20 percent.
Prickly pear (Opuntia spp): This cactus native to Mexico grows in parts of the United States and in some Mediterranean regions. It contains fiber and pectin, which can lower blood glucose by decreasing absorption of sugar in the stomach and intestine. Prickly pear extract as a supplement is readily available in health food stores and Mexican pharmacies. Follow the dosage directions on the package.
Gurmar (Gymnema sylvestre): This is an ayurvedic remedy. Extracts of the leaves of this climbing vine have been shown to lower blood sugar levels in both type 1 diabetes and type 2 diabetes. I suggest taking 400 to 600 mg daily of an extract standardized to 25 percent gymnemic acid.
Blueberry-leaf tea (Vaccinium myrtillus): This is a mild, safe regulator of blood sugar if taken over a long period of time. Drink one cup in the morning and one in the evening for at least three months. You can find blueberry-leaf tea in health-food stores, sometimes along with more concentrated tinctures and extracts.
It is safe to experiment with blueberry leaf tea and the three herbal supplements I've listed above, but if you're taking prescription drugs to reduce blood sugar be sure to tell your physician that you're considering trying them. The dosage of your medication may have to be adjusted.
For those being treated for diabetes, I recommend supplementing with 1,000 mcg a day of GTF (glucose tolerance factor) chromium, a form that's well used by the body. Chromium helps stabilize blood sugar levels and can be beneficial in type 2 diabetes. I also recommend a daily dose of 400 mg of magnesium.
Another useful supplement is alpha-lipoic acid, which may help improve insulin sensitivity. The starting dose is 100 mg per day, and 200-400 mg is a commonly used daily dose.
Andrew Weil, M.D.