Choosing A Flu Vaccine?
Can you tell me how influenza strains are chosen each year for flu shots? Is it true that we base them on Australia's strains?
Andrew Weil, M.D. | November 30, 2017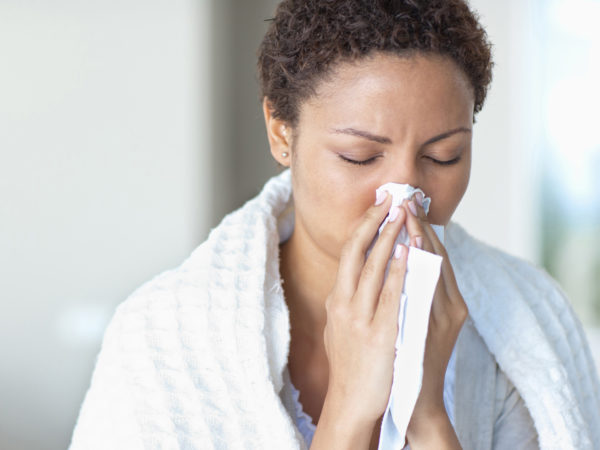 Selection of the influenza strains to profile for use in vaccines is a complicated international effort, since flu viruses are constantly changing worldwide. The U.S. Centers for Disease Control and Prevention (CDC) reports that every year more than 100 national influenza centers in countries around the world receive and test thousands of flu virus samples from patients. These facilities send representative viruses to five World Health Organization (WHO) centers including the CDC, the UK's Francis Crick Institute and national health institutes in Australia, Japan and China.
Twice a year the WHO organizes a review of the results of the information that its five centers have evaluated as well as the prevalence of viral strains. Representatives of these centers then make recommendations for the composition of the next year's vaccine. The consultation for the northern hemisphere takes place in February, so a vaccine can be ready for distribution the following fall, while the one for the southern hemisphere occurs in September in preparation for the flu season there (from April through September in temperate regions and throughout the year in tropical areas). While the WHO recommends specific viral strains for inclusion in flu shots, each country makes its own decision about which ones will be selected for the vaccines it licenses. The viruses chosen must be similar to the ones predicted to cause the disease.
Once a recommendation has been issued, drug manufacturers start producing vaccine. The sooner this happens, the better, since the more time manufacturers have, the more vaccine they can make available for the upcoming flu season. In the U.S. it takes about 6 months to produce enough flu vaccine for use beginning in the fall. As of this writing in November 2017, more than 130 million doses have been distributed in the U.S. for the 2017-2018 season.
Actual production starts with the flu viruses, which are grown in chicken eggs. Certain strains don't grow well in eggs, which make it more difficult to develop vaccines against them. New vaccines also must be tested in time to allow for production of the amount needed for the following flu season.
Every week, year round, the CDC's Influenza Division collects and reports information on flu activity in the United States in collaboration with state and local health departments and other health authorities nationwide. It evaluates how close a match there is between the current flu vaccine and the viruses in circulation as well as how effective the seasonal vaccine is against the strain it was targeted for.
Andrew Weil, M.D.
Source:
U.S. Centers for Disease Control and Prevention, "Selecting Viruses for the Seasonal Influenza Vaccine." cdc.gov/flu/about/season/vaccine-selection.htm. May 3, 2016.