Do Moles Predict Breast Cancer?
I heard there's a connection between the number of moles a woman has and her risk of breast cancer. Is this true? If so, can you tell me how many moles raise the risk?
Andrew Weil, M.D. | July 24, 2014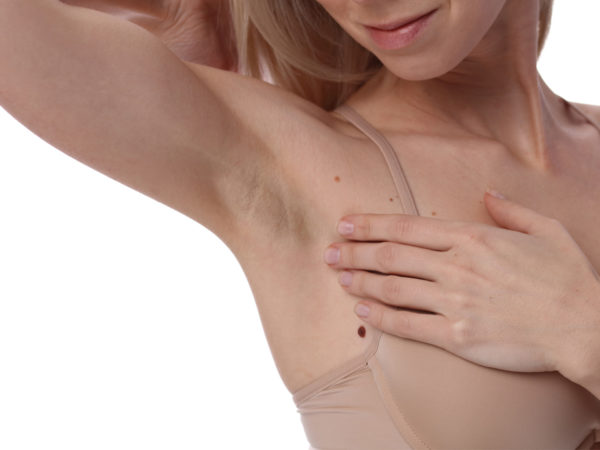 Two studies, one from the U.S., the other from France, do suggest that the number of moles a woman has may be an indication of an increased risk of breast cancer. But so far, researchers don't know what the connection might be.
The U.S. research focused on the more than 74,000 women who participated in the long-running Nurses' Health Study. In 1986, the women were asked to count the number of moles on their left arms. At the time, the women were between the ages of 40 and 65 and, over the next 24 years, nearly 5,500 of them developed breast cancer. Of those who reported having no moles, 8.5 percent were diagnosed with breast cancer; of those with 15 or more moles, the rate was 11.4 percent, and among women with one to 14 moles, the rate was 10 percent. Overall, women with the most moles were 35 percent more likely to develop breast cancer than women with no moles.
That number might sound scary, but it doesn't add up to much. The 35 percent indicates the relative risk of developing breast cancer if you had a lot of moles on your arm when you were first asked to count them compared to women who had no moles. But viewed as "absolute risk" – the real risk– a 35 percent increase isn't as frightening as it may seem. For example, if the normal chances of developing breast cancer were one woman in 100, a 35 percent increase would mean that the disease would occur in 1.35 out of 100 women. The odds of not developing the disease would still be pretty low – 98.65 out of the 100 would not get the disease.
The big question is what the connection could be between moles and the risk of breast cancer. The researchers suggested a link to the hormone estrogen, which influences most breast cancers. They noted that during pregnancy, when estrogen levels are high, moles tend to get larger and darker.
Breast cancer experts quoted in news reports about the study emphasized that there's no need for women with a lot of moles to panic and suggested that the connection seen in the Nurses' Study probably relates more to the causes of breast cancer than it tells us about an individual woman's risk.
The French study, which included nearly 90,000 women, also saw a connection between moles and breast cancer, but only among women who developed the disease before menopause.
If you're concerned about breast cancer, focus on addressing established risks you can modify: keep your weight under control, eat an anti-inflammatory diet rich in cancer-protective foods, exercise regularly, drink alcohol sparingly if at all, and carefully consider the risks and benefits of using hormone replacement therapy after menopause.
Andrew Weil, M.D.
Sources:
Jiali Han et al, "Association between Cutaneous Nevi and Breast Cancer in the Nurses' Health Study: A Prospective Cohort," PLOS Medicine, June 10, 2014
DOI: 10.1371/journal.pmed.1001659
Maryam Farvid et al "Dietary protein sources in early adulthood and breast cancer incidence: prospective cohort study," BMJ doi.org/10.1136/bmj.g3437