Can Night Shift Work Lead To Breast Cancer?
I was under the impression that working the night shift increases the risk of breast cancer but recently heard that this isn't really true. Which is right?
– March 20, 2017
The idea that night shift work could be linked to breast cancer comes from research suggesting that artificial light at night increases risk. A 2001 study from the Fred Hutchinson Cancer Research Center, one of the first to look at this, found that women in Seattle who worked the graveyard shift faced up to a 60 percent increased risk for breast cancer, and subsequent research has shown similar patterns. In 2007 a review by the International Agency for Research on Cancer (IARC) classified shift work that disrupts the body clock as a probable cancer cause. However, that conclusion was based on animal and lab studies, not human ones.
The latest word on this subject comes from a team of British researchers who combined the results of 10 studies, including three large ones that looked at data on 800,000 women in the UK. The other seven took place in the U.S., China, Sweden and the Netherlands. The total number of women enrolled in all the studies reviewed was 1.4 million. After analyzing the data, the researchers concluded that working the night shift – even for as long as 20 or 30 years – did not increase the risk of breast cancer.
The possible mechanism by which shift work might cause breast cancer is based on the fact that even brief exposure to artificial light at night suppresses the pineal gland's production of melatonin, a neurotransmitter with strong anti-cancer properties. Animal studies show that human breast cancer tumors transplanted into rats grow more quickly in the presence of melatonin-depleted blood.
Support for the link between artificial light and breast cancer risk also came from 3 separate studies suggesting that women who sleep with lights on in the bedroom (even from a television left on) are at increased risk of breast cancer compared to women who sleep in completely darkness. However, these studies have been criticized for relying on the recall of women with breast cancer who were asked about their bedroom environment. "Recall bias" can skew the results, according to experts who reviewed the studies.
The conclusions of the 2016 British investigation are unlikely to be the last word on this subject. They have been criticized on methodological grounds by prominent researchers who have long been studying the epidemiology of night work and breast cancer and have said the conclusions of this latest analysis aren't justified. More research is forthcoming. I'll keep you posted.
By the way, I strongly recommend – for a number of reasons – that you sleep in complete darkness.
Andrew Weil, M.D.
Source:
Ruth Travis et al. "Night shift work and breast cancer incidence: three prospective studies and meta-analysis of published studies." Journal of the National Cancer Institute, October 2016 DOI: 10.1093/jnci/djw169
Advertisement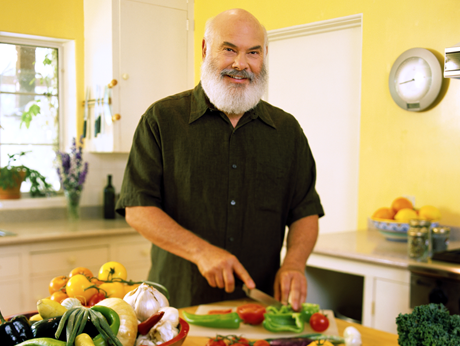 Related Weil Products
Everything you need to get started eating a healthful, satisfying diet is here – including eating and shopping guides, over 300 recipes, and an exclusive version of Dr. Weil's Anti-Inflammatory Food Pyramid! Start your 14-day free trial now – and start eating anti-inflammatory today!
Get Started