Flu Shots with MS?
Should people with multiple sclerosis have the flu vaccine?
Andrew Weil, M.D. | January 1, 2009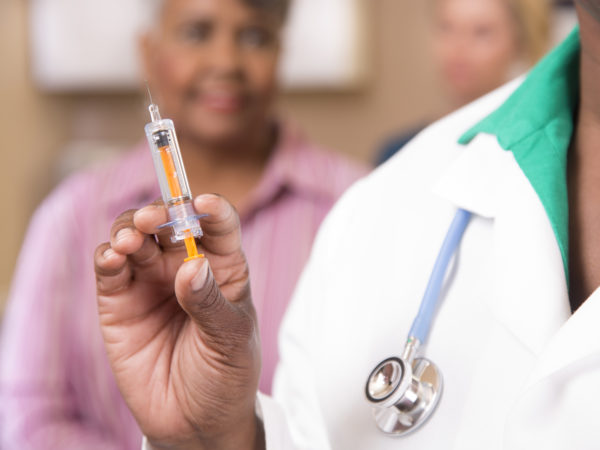 Multiple sclerosis (MS) is one of the most baffling of all diseases – we know very little about what causes it and what factors influence its course. MS begins with localized inflammatory damage of the myelin sheaths surrounding nerve fibers due to an autoimmune attack. The resulting damage interferes with nerve impulses and can lead to symptoms such as muscle weakness, loss of vision, and other impairments.
I like to work with MS patients because they respond well to integrative medical treatment, including changes in diet and other aspects of lifestyle, and mind/body therapies. In addition, the disease is highly variable. It can stabilize, go into remission, or disappear completely.
If you have MS, there is no reason not to get a flu shot, but I wouldn't recommend doing it while you're in a period of disease exacerbation. Wait until symptoms subside. According to the National MS Society, it is also safe to have a flu shot while you are taking one of the disease-modifying medications (Avonex®, Betaseron®, Copaxone®, Rebif®, or Tysabri®) used to treat MS.
However, you should definitely avoid FluMist, the flu vaccine nasal spray approved by the FDA in 2003 for healthy children and adolescents, ages 5-17, and healthy adults, ages 18-49. FluMist contains live, weakened virus, for which there is no safety data in MS. Nor do we know about possible interactions between live vaccines and the disease-modifying drugs listed above. Finally, many MS patients are on immunosuppressive drugs, such as mitoxantrone (Novantrone®), cyclophosphamide (Cytoxan®), azathioprine (Imuran®), or methotrexate), and we do not know if those medications make immunization with live-virus vaccines more risky.
So, if you have MS, yes to the flu shot, but no to FluMist.
Andrew Weil, M.D.